please go to www.paypal.com and send payment as gift to symond.lawes@gmail.com 
BUY TICKETS HERE
Skinhead Reunion Ticket Price £30.00 Adults
bands confirmed  so far Too Many Crooks, Peter and the Test Tube Babies, booze and glory, the bois, The Two Tones Jenny Woo The Piranhas
The 3rd Great Skinhead Reunion Brighton England, June 2013.
The biggest gathering of Skinheads in the UK annual event. takes place over a full weekend in Brighton England, the birthplace of the Skinhead culture in the 1960′s. Going from strength to strength. Please take this oppertunity to secure early bird tickets. There will be a full weekend of entertainment and frolics, bang on Brighton seafront. check out last years event for the idea, if you havent yet been.
Top Skinhead scene live bands Too Many Crooks  Booze and Glory, The Bois, The Two Tones more will be confirmed soon, our regular DJ's will be holding the weekend together with guest DJ's from the best in the world. .
Darren Bennett, Hit the moon and Official Madness DJ
Lee 'Thommo' Thompson MADNESS
Lee Evans DRC
Olas Boss Sound System
Terry Hendrick
Ska Shack
Bmore Mcvowty
mr dingaling and the steaming peanut,  Belgium
Sabrina Latina (Argentina)
Gegga
Laura Littlejohn, (Scotland)
Chris Rudeboy watts
skavoovie
Madam Scorcher
keep an eye on this space for further details, as we get everything together, The Confirmed date is the first weekend  May 31st- June 2nd 2013, This event is pretty much guarenteed to sell out, so please take advantage soon. Tickets get you into the entire weekend of events. We can help with rooms for the weekend, subject to availability

Casbah Rockers Skinhead & Ska Special by Casbah Rockers on Mixcloud
Check out the photo Gallery
Keep the Faith , The Skinhead Reunion Team
This years sales are very high, and we strongly believe it will sell out in advance. Unfortunately due to limited capacity, there are not likely to be door sales on the evening entertainment venues

The Great Skinhead reunion Facebook Group
 OI! the Hotel FOR ACCOMMODATION WE ARE CURRENTLY FILLING A HOTEL UP. PLEASE CHECK OUT THE ROOMS AND GET BACK TO US FOR A DISCOUNTED RATE FOR THE RE-UNION WEEKEND. contact symond.lawes@gmail.com to book tickets and rooms 
Tickets to this event are non refundable, unless the show is cancelled by the promoter
camping option http://www.ukcampsite.co.uk/sites/details.asp?revid=2756
Anyone coming from mainland Europe overland, the ferries nearest to brighton are Dieppe- Newhaven, and a bit further, Calais – Dover, Newhaven is about 20 min scooter ride, Dover about 1.5 hours. the cheapest company last year was http://www.norfolkline.com/, but worth checking what deals there are on. there is a bus being organised from Germany, and i know we have french, austrians and belgiums coming, so by all means use this page to communicate,
Jamaican producer and musician Harry Zephaniah Johnson, 67, credited with producing what is widely considered the first reggae single "No More Heartaches" by the vocal harmony trio The Beltones, passed away on Wednesday, April 3 in his Westmoreland, Jamaica birthplace, succumbing to complications from diabetes; Johnson leaves four children and three grandchildren.
Born on July 6th, 1945, Johnson, better known as Harry J, initially entered the music business as a bass player with The Virtues prior to becoming the group's manager. Shortly thereafter, he took a job as an insurance salesman but his love for music continually beckoned. He booked time at producer/sound system owner Coxsone Dodd's Studio One in 1968 and recorded The Beltones. The resultant debut release on Johnson's Harry J label, "No More Heartaches," is considered a defining record heralding the emergence of the reggae beat as distinctive from its rock steady predecessor. ("Nanny Goat", a 1968 song produced by the better-known Coxsone Dodd and sung by the duo Larry and Alvin is also cited as a transformative record, moving the rock steady tempo into a reggae rhythm).
"At the time we were under contract with Coxsone Dodd but he wasn't doing anything for us so a member of a popular group The Cables took us to Harry J; Harry was new to the business and happy to record us so we broke away from Coxsone and went with him," recalled The Beltones' former lead singer Trevor Shields told Billboard.biz. "The driving sound on "No More Heartache" was totally different; we were like outsiders starting something new but didn't know it at the time. The song was No. 1 on the Jamaican charts for about four weeks, which was no easy feat in those days."
Harry J's next big hit "Cuss Cuss" by Lloyd Robinson, released in 1969, boasts one of the most recycled reggae rhythms in the voluminous Jamaican music canon. The same year Harry J released a succession of reggae instrumentals credited to the Harry J All Stars, a revolving cast of musicians that included pianist Gladstone "Gladdy" Anderson, keyboardist Winston Wright, bassist Jackie Jackson, drummer Winston Grennan and guitarist Hux Brown. "Smashville," "Je T'Aime" and "Srpyone" an assortment of Jamaican originals and reggae adaptations of international hits, are just three of the Harry J All Stars' instrumentals that garnered steady play from Kingston's sound system selectors.
Their most successful was "Liquidator," led by Winston Wright's spirited keyboard solos, which peaked at no. 9 on the UK Singles chart and became an unlikely skinhead anthem there. The song's opening bassline was subsequently featured on the introduction to The Staple Singers' 1972 Hot 100 chart topper "Ill Take You There" (Stax Records). According to an April 7 report in the Jamaica Observer newspaper by Howard Campbell, based on a 2000 Observer interview with Johnson, drummer Al Jackson (of Booker T and the MGs, Stax's in-house band) visited Kingston in 1969 and met Harry J who gave him a copy of "Liquidator"; Johnson was shocked to hear the song used in the Staple Singers' hit and took aggressive steps to collect royalties from Stax but made little progress.
Following "Liquidator's" UK success, British reggae label Trojan gave Johnson his own Harry J imprint; his instrumental productions never again reaped the popularity of "Liquidator" but Johnson triumphed working with several of the island's vocalists commencing with Marcia Griffiths and Bob Andy: their 1970 duets covering Nina Simone's "Young Gifted and Black" and Crispian St. Peters' "The Pied Piper" reached the upper tiers of the UK singles charts.
In 1972 Johnson opened a sixteen-track studio at 10 Roosevelt Avenue, Kingston, which revolutionized the reggae capital's recording industry. "Back then, we were recording two-track and four-track sessions so it took great foresight for someone to go all the way to 16-tracks, which brought us on par with the rest of the world," engineer/musician/producer Stephen Stewart told Billboard.biz at Harry J studios; there Stewart learned audio engineering in the 1970s while still a teenager, working alongside the late Sylvan Morris. "Because he had the latest in technology Harry J attracted the best artists of the day," Stewart noted.
A sampling of the classic 1970s roots reggae recordings done at Harry J studios includes: The Heptones' "Book of Rules," The Melodians' "Sweet Sensation," Toots and the Maytals' "Reggae Got Soul," Burning Spear's "Days of Slavery" and Dennis Brown's "So Long Rastafari." Bob Marley and The Wailers also recorded their first four albums for Island Records at Harry J ("Catch a Fire," "Burnin," featuring Bunny Wailer and Peter Tosh, "Natty Dread," and "Rastaman Vibration" with the I-Threes); presently, framed gold copies of those Wailers albums adorn the walls of the studio's main room.
Harry J Studios are featured in the 1978 film "Rockers" (directed by Theodoros Bafaloukos and starring Leroy "Horsemouth" Wallace, Gregory Isaacs and Jacob Miller) in a scene that spotlights singer Kiddus I recording "Graduation In Zion" there.
Although the 1970s were Harry J's production heyday he continued to produce and release hit singles throughout the 1980s including Sheila Hylton's cover of The Police's "The Bed's Too Big Without You", which reached no. 38 on the UK singles chart. Harry J responded to the massive "Sleng Teng" rhythm released by the King Jammys label in 1984, which jumpstarted Jamaican music's digital revolution, with his aptly titled "Computer Rule" rhythm that spawned numerous hits for various singers and toasters including Daddy Freddy, Charlie Chaplin, Uglyman, and Little John.
Following a seven-year dormancy during the 1990s, Harry J studios reopened in 2000, under the management of Stephen Stewart who refurbished and re-equipped the facility, with Johnson retaining ownership of the premises. "Harry J pushed the business aspect of the industry, putting deals together and cataloguing his songs (including releases on the Jaywax, Roosevelt, 10 Roosevelt Avenue and Sunset subsidiaries), which were separate from the studio operations," Stewart offered.
Countless reggae veterans including Toots Hibbert, Burning Spear, Sly and Robbie and Luciano have recorded at Harry J studios in recent years while upstart Jamaican groups Raging Fyah and Di Blueprint Band and an abundance of European reggae acts have each sought out its authentic roots reggae sound. "People come here to capture that live session chemistry where recording is more than just one person using a computer program," observes Stewart. "The legacy of the musicianship that has come through here makes Harry J studios really special, it's part of the vision Harry brought to Jamaican music."
by Modculture 1 October, 2012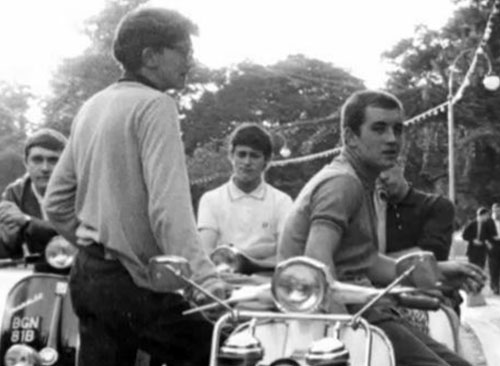 Mods in the 1960s
Thought this bunch of clips might be of interest to you, a short movie around the Fred Perry 60th anniversary event and if you missed them, the Subculture movies themselves.
The Fred Perry event took place last week, a showcase for the clothing label and its heritage and the Don Letts-directed mini movies, throwing in some live performances and DJs, headed up by The Charlatans.
You can watch it here…
Episode 2: This Is A Modern World
Episode 3: Made in England
Episode 4: Soul Power
British youth culture and style has gone around the globe, but there is a growing number of events back on home soil.
The Great Skinhead Reunion
in Brighton, cant be missed for any self respecting Skinhead, People travel from across the World to the Mecca annual event
Schylar Davis – Skinhead girl from and currently residing in Austin, Texas
I was never really good at anything except art growing up. I played the oboe, and various classical percussion instruments, but still spent the time I should have been practicing concert pieces, drawing portraits of people I knew, or doodling random things to fill up a page.
I got into the skinhead scene when I was almost 16, through music, Laughter and good times. I was into punk rock, but It wasn't so much me, I worked hard and had more aspiration to be something than most of the punk rock mantras proclaimed around me at that time. I felt more in tune with my skin friends than my punks, music and ethic wise (love them equally, just making a point). When I cropped, I was exhilarated, that's when I figured myself out.
I can be found at most local punk, Oi!, and Ska here in Austin. Like most people I am currently working my ass off at a job I hate to get the bills paid. Things are looking up,though! I've got apprenticeships coming my way within this year, And I'm considering continuing my education in illustration or graphic design at the local institute. I hope to do tattoos, become a barber, and learn to weld and do maintenance on anything.
If you or anyone else need art done for flyers, tattoos, something to fill wall space, I'm always down for a challenge. If you just wanna say 'hey' that's cool too.

Contact me at poisnappl@gmail.com, Facebook.com/schrilla
385 Willesden High Road is tucked away behind a row of dilapidated 19th century houses, its entrance obscured by high locked gates and a walled yard. But 385 is a treasure trove of reggae history. It's called Theorem, Music Village, and it's where we're recording several artist interviews for Reggae Britannia. As we arrive, there's a band in the studio rehearsing a romantic Lovers Rock number, there's a man up a rickety ladder painting the walls and another mopping up from an all night dance in the 'functions room' with its damp lino and garish red felt walls.
T-Jae, the tall soft-spoken proprietor of what was once called BBMC (the Brent Black Music Cooperative) helps us with our camera gear. He's got coffee brewing in the kitchen beside an open can of condensed milk. Before T-Jae's time this was a leisure centre filled with rattle of pinball machines and the click of snooker balls – now replaced by the drum 'n bass of reggae rhythms leaking from the studio.
We're here to interview Dave Barker, one half of the Dave and Ansell Collins vocal duo who set the teenage mods alight, back in 1971, performing a novelty number called 'Double Barrel'. Dave's a quietly spoken man with a hint of a stammer. He tells us how, when he first came to this country (and he stayed here ever after) he peered out through the window of his BOAC plane as it banked over the smoking chimneys of the snow-covered houses below and wondered 'how come they have so many bakeries in England?' On the drive from the airport he was shocked at seeing white men digging the road and taking out garbage: 'Wow man, that was strange, you didn't see those things in Jamaica'. Nor dogs wearing winter vests, nor steak and kidney pies, nor that little sparrow he spied pecking the top off a milk bottle. He can't help himself: Dave sings a refrain from Matt Munro's 'Born Free' and segues into 'Summer Holiday'.
Dave arrived in the U.K exactly ten years before Theorem opened its doors to top British and Jamaican reggae artists passing through. Today, there's the legendary Max Romeo sitting on bench in the winter sunshine, his grey locks neatly tucked into a woolly beret. In 1969, Max brought his wicked song 'Wet Dream' to Britain and its risqué lyrics – which got it banned in clubs and on the BBC – made it an anthem for skinheads in dance halls all across Britain. He sings a few lines, diffidently explaining how it caused an 'upstir' among the rebellious youth of the time. He's a little ashamed of it now because, by the mid 70s, Max had embraced the wisdom of Rastafari. That was when he wrote and recorded some of reggae's most powerful and memorable music in the Black Ark studio of Lee Scratch Perry: 'War In A Babylon' and 'Chase The Devil'. When those songs arrived here, first as pre-releases and then remixed by Island Records, they inspired our fledgling roots reggae bands and then the punks and then Bob Marley too. Max intones a few lines from 'Chase The Devil', an ironic, cautionary tale that has been covered or sampled by dozens of musicians – including Jay-Z in 'The Black Album' – and was featured in the video-game Grand Theft Auto.
Dave Barker and Max Romeo – by Irfhan Mirza
'I'm gonna put on an iron shirt and chase Satan out of earth' he sings. 'I'm gonna send him to outer space to find another race'. Max explains: 'The devil is the negative within the psyche. Chasing the devil means chasing the negative out of your mind.' There are people wandering in and out while he speaks; musicians carrying drums and guitars into this studio that's cold as a morgue, or dropping off an amp or a heavyweight speaker, or they've come to pay their respects to the master, with a hug or a high-five.
T-Jae comes sauntering by with a piece of carpet under his arm to help our sound recordist dampen the 'live' acoustic of the room (yes, we still have a sound recordist on our crew) and he tells me that among the band members in the studio today is none other than Bigga Morrison. Bigga's not a front man like Max, but a keyboard virtuoso and music director of renown. Reggae royalty. The band take a another break for a smoke in the yard and Bigga, immaculate in pin-striped suit and brogues, describes growing up in this country as a second generation West Indian:
'My parents had experienced troubles and threats on the streets, back in the '50s, with the Teddy Boys and such, but they wouldn't discuss those things because they wanted to keep you free from the pressures. But as we grew up, we took our message and our fight onto the streets with the roots and culture music we played in bands like Steel Pulse and Aswad.'
Later during the interview, I asked Bigga to show us how the British reggae producers, back in the early 1970s, added violins to the Jamaican imports to make them sound 'more classical'. Unfortunately, he's lost his glasses and so can't read the score. Tee Jay's on hand to send for a replacement pair. Bigga fills in time by playing us a delightful new track by his band the Skatronics, but when the glasses arrive, they're all wrong for Bigga. He wears them anyway, and peers astigmatically at the music for 'Young Gifted And Black' which is layered in symphonic-style strings. Bigga (educated at Trinity College of Music) explains how Jamaican reggae gradually transformed into a British musical experience, first through the dub sounds and conscious lyrics of hardworking roots groups like Aswad and then by the bands that went platinum: the 2 Tone crowd, UB40 and The Police.
Bigga's being called back to rehearsals now, so we break for a late lunch. It's a choice of The New Golden Duck Chinese Take Away or the Caribbean place half a mile up the road. We do the walk and settle for salt fish and akee. Or rather, the others do. I choose the goat curry on plantains and soon regret it.
Bigga Morrison
Back in Theorem, Bigga's at the keyboards and a couple of pretty female vocalists are delivering more saccharine Lovers Rock. And that's where we see Big Youth, in among them, gyrating his hips to the pounding bass and chugging upbeat of the guitar. He's chaperoned by a petite Italian lady from an artists' agency called Roots Rockers. She's Trish, and she's exhausted because they've only just returned from a nightmare flight from Spain. Trish is a miracle of calm and efficiency in the maelstrom of the struggling reggae business and it's clear all the artists adore her. Trish has offered us the opportunity to interview Big Youth, the toaster who excited British reggae fans with his revolutionary, rasta-inspired lyrics in the mid '70s. He's on top form today, his wiry body twisting and swaying in the interview chair as he sings lines from 'Hit The Road Jack', telling me how the great Ray Charles called him up one Christmas-time to admit that Big Youth's version was just 'the best'. 'Big Youth stole the scene,' he concludes. Modesty isn't one of Big Youth's virtues. But I can vouch for his status, and integrity. I first met him insideRandy's Record shop in Kingston Jamaica back in '77. He was checking out the sales of his album – visiting these record stores was about the only way an artist could tell how many were selling. He was as big a name as Marley at the time, and revered both on the island and over here. We met again – by chance – in Lagos, Nigeria, when he was on the run from some unscrupulous promoter. He's older and greyer now, but with no loss of energy, showmanship or sharp humour. And the red, gold and green implants in his front teeth are still there.
The filming days at Theorem haven't only been productive for our ninety minute programme, they've also been enormous fun. Maybe it's the familiarity and affection the artists have for this building, or maybe it's what they call 'the spirits' of the house: a combination of all those sounds and experiences imbedded in the cracking plaster walls, the creaky floorboards which once the feet of hallowed artists trod, or the reverberating bass you can hear down Theorem's honeycomb of corridors.
We'll be back here later in the week to interview the fiery, bubbly Lovers Rock singer Sylvia Tella, from Manchester; and Tippa Irie who came to fame DJing for the Saxon sound system, and maybe Dennis Bovell, the multi-talented producer/song writer and bass player, who did so much to anglicise reggae music in this country. Oh, and Trish says Dennis Alcapone's coming by, the dapper, bowler-hatted vocalist who brought a whole new style of toasting to these shores with songs like 'Guns Don't Argue': 'Don't call me Scarface, my name is Capone, C-A-P-O-N-E!'
For him, we'll haul our equipment boxes down the dark corridors of Theorem (we never could find the light switches, thriftily hidden away in recesses above door frames). Because we'll place him in a room, behind the studio, which is every reggae fan's dream, an Aladdin's cave of antique tape machines and mixers, and an expansive crimson casting couch. The wood-trim Rainderk desk dates from the early '70s when Reggae first exploded onto our pop charts with songs like 'Young Gifted And Black', bringing an upbeat musical thrill not just to those of Caribbean origin and the packs of skinheads who followed them around the country, but to the whole nation. This mixing desk was donated by Pete Townshend of The Who. It has made history since, recording reggae artists like The Wailers, Gregory Isaacs, Aswad, Janet Kay, Maxi Priest … and so many more.
The traffic's slow on Willesden High Road as we leave the studios and T- Jae waves us into the evening gridlock and shuts the gates. Back-in-the-day, Theorem would be filling up with dreadlocked musicians and their natty entourage, ready for another all night session. Sometimes it still does, but with the proliferation of cheap home studios and a music industry in crisis, it's a whole lot quieter now. No sessions tonight. Just the rattling pipes, the whispering corridors, the vacant studio and the ghosts of British reggae history.
Jeremy Marre is the Producer and Director of Reggae Britannia
Watford skinheads – with added socks appeal
4:00pm Saturday 15th December 2012 in MemoriesBy Adam Binnie, Senior Reporter
Watford (in red) and Harrow (yellow) skinheads at Butlins, Clacton, in 1968.
Philip Ellisdon has sent in this picture of the Watford and Harrow skinheads on holiday at Butlins, Clacton, in 1968.
He said: "There were 20 of us – ten from Watford, ten from Harrow and Wealdstone. I am the one on the floor in the centre, third from the left with the striped shirt on.
"I had just won a reggae dance competition sponsored by Trojan Records, the big reggae record company at the time.
"The local guys are there, red are Watford, yellow are Harrow and Wealdstone. Next to me was Steve Hickman, behind with the white braces is Keith Munday and to his right is guy called John Warby who was a last minute replacement.
"Keith and I were born next door to each other, nine days apart, and are still friends today.
"In the front are Nicky and Charlie, and with the jacket and white socks is John Galley or Layo as he was called then. He was from Ruislip, but a friend I met at Butlins two years earlier. The rest of the boys were not in the photo – they were all at the bar.
"In the early days, all skinheads wore white socks. One day I went to the Co-op at Gade House with two friends, Barry Preston and his girlfriend at the time, Linda Howarth, to buy a new pair of white socks and they had sold out.
"I bought red socks, just to be different on the dance floor, then a few of my mates also bought the red socks and that was our Watford identity, not always welcome in some places like Wembley or Golders Green, as they knew where we came from and we were not always welcome.
"The prize at Butlins was a lifetime membership to the Trojan Record Club, a big gold medallion, a certificate and an invitation to dance in the next round at a club in London –  but I never went.
"I used to dance in many clubs around our area and got to know loads of people from all over the place. Sometime we were welcome, sometime you could be classed as being 'too flash' and someone would take exception and start trouble. Time for us to leave.
"We use to dance in clubs in Hemel, Harrow, Greenford, Kingsbury, Ealing, Slough, Windsor, Wembley, Golders Green, Tottenham, Stevenage, Welwyn Garden and, of course, our own stamping ground, the Watford Top Rank, as it was in those days.
"The Top Rank was a safe haven for us, we could wear our red socks, be as 'flash' as we liked and dance all night with very little trouble. I had many regular girl dance partners who were great friends. I even met and married one, my wife Lori, and we can still mix it at a 60s/70s disco.
"In the skinhead days, you would never go out with a hair out of place. Tonic suits, Ben Sherman shirts ironed, Levi turn ups measured and pressed, Florshiem Imperial shoes shining, Doc Martin boots polished – everything immaculate, everything ready for The Top Rank. For us, this was the centre of our the universe in those days, a place where all the factions of Watford council estates congregated and because they either went to school, played football or supported Watford FC together, mostly they became friends and were Watford Boys as one.
"People used to travel from all the aforementioned places to spend a Saturday night "up the Top Rank". It was amazing, how we all became friends, and my wife and I are still friends with many of the people we first met there.
"Many of the 'faces' from those days are still around the Watford area. A few are members at my golf club, West Herts. They have not changed, still smart, still looking like a 'face'.
"The 'ace face' at the time was a guy called Roy Rumble. He was the best dancer around by a mile. People use to stop and watch him dance long before John Travolta could even walk.
"He was an inspiration to all those people who wanted to dance, me included, and for such a small guy, he could also look after himself if anyone started on him for being 'too flash'.
"The Top Rank was open Tuesday, Thursday and Saturday nights. They even opened a club on a Sunday night in later years after the skinhead era.
"The good days were gone and 70s music and clubs diversified into the suedehead and glam rock eras, so we all grew our hair down to our shoulders and moved on, an era gone, but certainly not forgotten.
"The music still lives and the memories flood back."
Watford and Harrow skinheads, Philip Ellisdon has been in touch with more information about the skinhead and mod scene in Watford during the 1960s, and how it started.
He said: "This is a photo of Mick Colvin and myself at Butlins in 1967.
"Butlins was like Spain is now. It was fun and affordable. Too many stories to be told now, but a great era, lots of style and lots of fun.
"Notice the small turn ups on the Sta-Press trousers, another skinhead fashion if you could not afford Levis, but the obligatory braces and haircut – which was expensive till a mate of my Dad started to shave it for me.
"In this picture it's grown a bit and the skinhead haircut did not compliment my forehead, as in the song Dr Jimmy from Quadrophenia: "You have to move with the fashion or be outcast".
"Great film, the Who are my favourite group, great words from Townshend and an understanding of a generation that I think most can relate to, no matter what era they grew up in. All the generations have had the same growing pains.
"There was a mod scene. The Trade Hall in Watford, which has been featured a few times in the Nostalgia section over the years, was famous.
"Many of the groups, The Who, Small Faces and the like, played there. I watched them through the windows with my mates, standing on beer crates as we were either too young or too skint to get in.
"There has never been a lot written about the skinhead days, only bad stuff, but it was a brilliant era, we had the Motown on one side and the reggae on the other. We liked both. The dancing was varied and everyone danced as you did not need to be a gymnast to dance in them days.
"We had the skinheads, hippies and rockers, all three factions and Watford had a place for them all – the Top Rank for the skinheads, Kingham Hall for the rockers and the Watford Tech for the hippies.
"We use to race around Watford on Vespas and Lambrettas. I was born and lived in Waterman Close, as were my friends. There was 12 of us all around the same age, born in or around Waterman's, all living within a few yards of each other. Keith and I were next door neighbours and we had council garages at the bottom of our gardens where we kept our scooters and where all the others in the Close with a scooter would hang out.
"Watford had some infamous characters during the skinhead era. The first skinhead I knew in Watford was a guy called Gary Armstrong, who unfortunately is no longer with us.
"We were up the Top Rank one Thursday night when someone came in and said that Gary was down the Red Lion (now the Toby Carvery, where they use to have a disco sometimes) with a load of skinheads.
"We had no idea what a skinhead was, so we jumped on scooters and went to see what it was all about. When we got there, Gary, a style guru and a mod, (a Small Faces lookalike with glasses) was now a shaved head skinhead. Unbelievable.
"We were all basically young mods, seeing Gary and these guys from London's East End, with all these smart clothes and shaved heads, some in Levi's, Doc Martins, Ben Sherman shirts and Harrington jackets, some in tonic suits, Fred Perry's and Florsheim shoes with white socks.
"These guys were so cool, we spent all night talking to them about the clothes, quickly realising that to become a skinhead was not cheap. Most of the gear was from the USA and no way we could afford it, but a shaved head we could.
"The next day, being Friday, pay day, Steve Hickman and I went to the A1 barbers in Carey Place, recommended by Gary, for a No1 haircut. The place was packed, but five minutes later, we were in the chair and in the blink of an eye, we were skinheads.
"My Mum went mad, my Dad thought the short, back and sides was a bit extreme and I got a lot of stick back at work, where I was a trainee panel beater.
"Within a week, Watford Top Rank was full of skinheads and pretty soon, during the late 60s, the Watford Top Rank became a infamous venue, with people coming from all over the place to spend a Saturday night 'Up the Top Rank'.
"There were many "faces" during that time. Some became known for their style, others for their ability to take care of themselves, should the need arise of course, which, on a Saturday night, it did.
"There was always a chance of some "aggro" taking place, especially when gangs from outside Watford chose to visit and try and claim territory within 'the Rank'.
"Roy Rumble danced and people watched. Outsiders would usually make some comments and it would all kick off, but as with generations before and since, this ended in trouble and being a skinhead meant you had to stand your ground.
"Watford Peace Memorial Hospital, as it was then, always had a busy Saturday night, especially being so close by. Many of the nurses who lived in also frequented the Rank, so sometime you got the personal service and an escort to the hospital.
"But in those days, there were very few knives, hardly any killings and in many cases, friendships were born out of the 'aggro' and I can speak from experience there.
"Getting blood down your white Fred Perry and your Tonic mohair suit was not part of the evening's plans. You don't look so cool with a nose bleed. It's the guy who gave it to you who is the hero.
"Hope this gives you a brief insight to an untold era in Watford."
Patsi Whelan-Archer, formally from Whitwell Road, in Garston, read Mr Ellisdon's letter about Roy Rumble last week and has sent in some more information.
The 61-year-old, now living in Sutton Coldfield, said: "I remember him very well. As your article said, he was an amazing dancer.
"I used to go to the 'Rank' on Thursday and Saturday nights and Roy was always first up on the floor and always last off.
"We all loved him and looked up to him because he really had an amazing presence; he was his own man.
"I remember him stepping forward to help me when a lad was trying to force me to dance with him when I'd said 'no'.
"Roy decked him and there was no more problems, even the bouncers respected him as they, and everyone, knew he was a trouble stopper, not a trouble starter.
"All Roy wanted was to dance and for everyone to be happy around him. I will never forget Roy Rumble – a lovely, lovely man.
"I now live in the Midlands and when I read your article it brought all the wonderful memories of the 60s flooding back. Does anyone remember 'The Trade'?
"I saw the Who and many, many amazing bands there, and was asked out by Rod the Mod aka Rod Stewart, but thought he was a bighead and refused! Oh well, no regrets eh?
"Thanks for the memories."
Too Many Crooks
Performing live at 2013 Great Skinhead Reunion, Brighton on 1st june
TOO MANY CROOKS were formed following a Bad Manners gig in Brighton.
The group of friends didn't just want to sound like a poor mans 'Madness' or 'Specials', and soon earned themselves a loyal following of supporters who welcomed their new and exciting brand of Ska.
The band released their self financed debut album, BOUNCE to great critical acclaim within the Ska World, and the band continued to be ahead of the field within the genre.
However it was during the recording of their 2nd album, INSIDE, that the band really came into their own and created something very different from their contemporaries. The release of this album was followed by a tour of England and Europe, where they supported top American New Wave Ska band, 'The Mighty, Mighty Bosstones' and' The Dropkick Murphys'.
Their long awaited 3rd album, SPANISH FLY combined the commercial sound of BOUNCE with the harder edge of INSIDE, broadening the bands appeal to the ska/punk fans. This album received rave reviews and became their fastest seller yet!
To highlight the quality of the band's output, TOO MANY CROOKS were approached by PHANTOM PICTURES, who asked them to provide soundtrack music for British gangster film, 'BABY JUICE EXPRESS'. The film featured an impressive cast, including Nick Moran of, 'LOCK, STOCK AND TWO SMOKING BARRELS', and Samantha Janus. The film was released in 2003 and included 4 TOO MANY CROOKS songs.
In 2004 TOO MANY CROOKS were asked to record a version of the Piranhas classic TOM HARK in support of the campaign for a new stadium for Brighton and Hove Albion FC at Falmer. The new lyrics were provided by club poet in residence Attila The Stockbroker. The single reached number 17 in the national charts in January 2005!
The band continued gigging in the UK and Europe, and in 2010, were again asked to provide a film soundtrack song for 'THE KID'.
TOO MANY CROOKS have just released their 4th album entitled, HERE TODAY, GONE TOMORROW.
They have also recorded a cover of The Specials song 'Pearl's Cafe' for the SPECIALIZED project, which has all proceeds going towards Teenage Cancer Trust.
Hello. I want to share with you my recollections and memories of the skinhead scene that I have always been a part of. At the moment I am recovering from falling off some scaffolding, so this has given me time to get to grips with modern technology and given me a chance to reflect for the first time on the subject of Skinhead culture and share with you some of the stories and memories of the past from like minded people which has been prompted by hearing the interview with Symond Lawes on the Brighton skinhead reunion recorded some time ago.
I will start by telling you about myself. I'm a 50 year old skinhead and bricklayer now living in Wendover, Bucks. I grew up around the Camden Town/Somers Town area of London.
When I was a kid, kicking a ball around at night, my mum always said: 'Be home before the Mods come out!'
This was around 1969, she was referring to the lads, who would have been Mods, who had inherited the same patches outside the local pubs that their elder brothers hung around some years earlier.My parents still called them Mods, and I always thought of Mods as being the the elder statement of skinheads. These were previously the 7/6d's, that have now come of age. We knew which families they came from, and who they were, and our families knew their families and so on. There were some real tough families in the area at that time. By this time the groups that my parents remembered were growing up, getting married, they were joining the Army and working for Her majesty ( GPO) or staying at one of her Hostels. (HMP Pentonville was near my home)The GPO tower was looming over us, like a calling card, it was a respectable career to aspire to and a lot of us did end up going to Mount Pleasant GPO, after being kicked out of school.
But a further aspiration, was to join the local gang. I was way to young for this at the time but I would look out of my bedroom window, with envy watching this group, evolve from 1968 onwards. I will never forget the sound of the the light buzzing of scooters as the gang rode their inheritance from their older brothers. They were a group of lads who had this tough but smart look about them, They wore mostly denim jackets, with Crombies ¾ length coats, boots and braces. The gals didn't have the skinhead feathered hair cuts, like they did later. Some of them looked a bit like the Toyah Wilcox character in Quadrophenia. Most of the girls had Crombies but looked feminine but they still looked like Sixties Mod girls, with kilt type minis, they wore their hair in a shoulder length style that hinted at skinhead look. It was a bit like a flat mullet, with a fringe, that looked like it had been cut around a saucer template.
You always looked out for "Names" on the skinhead scene. "Names" who were hard enough to have been kicked out of the local boxing gyms. The word got out amongst the scene. They were always tough Jamaican offspring kids, and they were ALWAYS part of the group. These kids where always in the mix, as some of the top boys, but in many ways smarter. "wiv the threads" a right proper mixed bunch who always fought and hung around together, Skinheads or mods, peanuts, however they were, they were the was the only group you would ever see with blacks kids.
In 1870-72, John Marius Wilson's Imperial Gazetteer of England and Wales described Somers Town like this:
SOMERS-TOWN, a chapelry and a sub-district in St. Pancras parish and district, Middlesex. The chapelry is a compact portion of the metropolis; lies between New Road, the Regent's canal, and the Great Western railway, 2 miles NW of St. Paul's; occupies ground which was mainly unedificed so late as 1780; and has a post-office‡ under London NW, and an S.-Police station. Pop., about 14,500. The living is a p. curacy in the diocese of London. Value, £300. Patron, the Vicar of St. Pancras. The church was built after designs by Inwood, at a cost of £14,291.—The sub-district extends beyond the chapelry, and comprises 184 acres. Pop. in 1851, 35,641; in 1861, 39,099. Houses, 3,907.
Some of the lads dressed smarter then the others, the way they dressed reminded me of the slick character in the 70′s TV show "Please Sir" some of the black lads had the Tennis Fred Perry shirts, and braces with "Peyton Place jackets. My mum wanted to see me dress like that, as she fancied the film actor Ryan O' Neil.
She seem eager to see me in one of those outfits, more then any other form of attire. Later on most of the Jamaican kids were smartly dressed in tonics and loafers especially on music nights and at that time they had the same inner London accents as most of them had come over in the 1950′s when they was babies and a few of the younger lads was born in the UCH the same as me.
On youth club nights I would hear the sound of the club in the Cumberland Market down in NW1. This was mixed with the turn out of the dads and older lads coming out of the Kings Head opposite my house. At the time I didn't know what the stuff they were playing was, but it had such a infectious bounce to it, and it echoed all around my room at night. I used to tuck my head under my eiderdown. I felt so spellbound by the rhythms and beats. So much so, that I would wake up with it almost resonating like an exact recording in my head the next morning.
This would stay with me for life. Later on I discovered exactly what it was and that it was the ska/rocksteady music. The ska would be played at the early part of the night just as it was getting dark, and the sound would be taken down a level later in the evening with the Rocksteady beat. At the time I was too young to get involved and my nearest encounter of rubbing shoulders with this crowd, was seeing these older kids break away from the group and go on the march to Highbury, on Saturdays. The older lot headed for the boozers and then the North Bank, while we went to the West Stand with my dad,and my mates who all had older brothers in the ranks so with that and the fact that there parents knew mine and who's boy I was!
As I got older, I would go around me mates gaffs, a lot of their elders had left home to start families. It was almost the unwritten law at that time, that the elder brothers room should remain untouched, and that included record collections. For me, at the time that was heaven. I understood that ska was the main stay amongst Skinhead record collections, although a lot of skinheads at the time, did listen to other stuff apart from reggae there was a popular local band called "The Action" that locals still followed also nearly everyone of them had "Who" and "Small Faces" poster or disc, and also would you believe: "A Kind Of Blue" by Miles Davis. which his brother always called his "Shagging music."
I thought it was a kind of dance at the time and I remember being glad to see those records and posters as it kind of blessed what I thought was a guilty secret of mine, my love of "The Who." In a way it wasn't that strange, as we all gravitate to a kind of group or music that attracts us and that was the whole Mod ancestry! It wasn't quite the mainstream but it was heavy enough to be called Geezers music but it never crossed over to hippiedom which I always thought of as being "THEM" the group you never want to be with. I inherited a hatred of them, not so much the music coz there was a lot of "Blues" which I always loved, and that's when I started to get more knowledgeable about this kind of music, as I knew that it was the root of ska, a Jamaican take on the blues that they had heard from the Southern states. So this also gave it a blessing to like "The Blues" as well.
My dislike for hippies came from the fact that they all seem to talk posh and they always seemed to be moaning in middle class accents and I despised those military wing greasers.The music consisted of "geezer rock" or white English men who played "Soul" and "Blues" that came out of "Rock" getting it slightly wrong. This was a style that developed by mistake. This clashing together of styles seem to repeat itself later on with Punk which I embraced quickly as soon as I was old enough to welcome it all but I had always being a Skinhead or Suede head since the time I tried to dress like guys from 1968 and 1969.
I have never been anything else as my age stopped me being a Mod. Then Punk came along and there was no way I was going to wear flares and attend concerts with the hairy ones on ice at Wembley!!! I'm pleased to say, that I have lived my life as a skinhead, and never succumbed to wearing flares no matter how out of step I was with the early to mid 70s.
I would also like to touch on something that Skinhead/Suede head discussions seem to overlook, This is when I started to hang around music venues the remainder of Skinheads from early days to the early mid 70s suede heads, were influenced by "Glam Rock" although it was from the less feminine side such as Mott the Hoople and Steve Harley. There seem to be the pre- punk, side which was full of the skinhead types, and that was "Pub Rock". There were so many of us in our group, we would make our way up to Tally Ho boozer in the north end Kentish town, to see the bands that played there, that included all of us and those who were old enough to get in "legit".
We were all part of the old gang of would be skins. This time more of them were wearing DMs, and crombies, with either a No2 or slightly grown out suede head haircuts. This was still the family "Skin" very much so, and this was the heavier aggressive sound that was for working class inner Londoners, or any other cities youth. We could relate to it.. it was our Generations "The Who." I sounded out all of these bands, pre-punk even trying to get down to that London in Essex hotspot which was Southend. I thought Dr Feelgood were fucking magic. My mates started to hunt through those record collections to find stuff like it and in hindsight we enjoyed Kersal Flyers Brinsly Shultz etc….. I loved all that stuff. By then of course we'd turn up trying to get in to gigs (I was still too young by the way) to any gigs that we thought was of that ilk, but once we got to them and heard them there was something more unhinged about some of those bands: "London SS" and the "101ers" need I say more that was my introduction into punk and then for a year or two I indulged my self into it.
I met up with mates all over London, that I knew from Boxing Gyms by way of boxing, regular trips down to the Bridgehouse, when it was in Barking Road also it was only a short walk down to the "Roxy" it was close to us and we used to just to hang out there. We Heard that "Dee Generate" out of "Eater", was our age so we thought: "Let's ave some of that.!" Some of the punks were a bit creepy, and a bit too arty, for my liking, but I went with it. There was some crumpet, but the girls were all weird wiv suspenders and stuff, and their knockers were sticking out of bin liners!
This was great for a kid my age, especially the at the "Roxy" the mighty Menace at "The grope and wank her" (Hope and Anchor yes we used to think it was funny!!!!!!) We would chat to Charlie Harper at the George Roby,there was this lesbian down the west end. We used to go and hang around with her with an added idea I was gonna cop an eyeful, but that turned out to be the only place a lot of bands were able to play, thanks to the then Tory run GLC so although I did do a lot of growing up in experiencing ways of female flesh. It wasn't the lesbo orgy I was expecting.
I will like to add, that at times we could feel a change happening, felt a ruck coming on, there were more swastikas, appearing with some of the punks. My jeans were scruffier but I still wore my black "Peyton Place" jacket and me Fred Perry tennis shirt we used to call em, not polos, they was well cheap then down Petticoat lane or Roman road. I always wore me DMs, and my hair was a bit above No2, I was a punk, but I always stayed a skinhead,too so the Swastika was a symbol that we despised. We grew up with parents and grandparents that had experienced it.
Half the streets were still corrugated fenced up, from Bomb sites, back in the days of me observing original skins I used to read read battle picture library and War picture library, those booklets, you know the kind of thing I mean. I used to have dreams of single handedly wiping out Nazis. I used to go to bed thinking that there was an army of rapist, Nazis hippies and coppers, and Narkie Grasses. and how I can dispose if them.It also was a symbol of The Grease, another reason why we hated them, because of their treachery of wearing what Nazis wore. although we hated "The Filth" and any establishment figure,, we were still working class British people and we was not that rebellious. So I resisted wearing that stuff but we was always up for a ruck people tend to think or want to believe it was the far left that was bovver boys when it was the opposite. I hate politics in music or subcults ,that's why I don't hold wiv no S H A R P stuff, but I will say this, we never saw a Tory never mind supported them.
Everyone came from Labour voting working class families,, so we knew what we wasn't, but never dwelt on what we were or what we were going to be. I hated politics and what's great about being a skinhead then and at now my age is that it's like being in stir "You don't ask questions." The nonces will be found out and dealt with at some point, and a skinhead gathering is the same for anyone on both sides. Both far extremes will feel marginalised eventually and this it started out as a youth sub culture, and we have taken it with us. It's what you feel, being a skinhead is all about, and it is what brings us together. As it's the furthest thing away from being a 14 to 15 year old Mod. Skinhead, Rude Boy in the 1960s, suede head 1970s is politics. Thats what your mum and dad talk about, and as I still haven't grown up nor do I want to I am a old but proud pathetic old git, and I won't never change!
Going back to attitude. Well, We did speak in a way that isn't talked now, but even your hard line trade union lefty activist would be slaughtered by the speak Gestapo now!!! it was another time, there was paki – bashing by gangs of mixed black and white youths especially after the arrival of Ugandan Asians not because of colour but because they were new and strange and our ignorance wasnt enlightened by the lack of integration and not willing to embrace, the culture,, unlike the Irish around our way which was a massive wave of families and for young people the West Indians shared there fashion and music it was ignorance and for us, the it was an overwhelmingly important pastime of fighting. This could be amongst any inner city youth Asians were just another group to ruck with, nothing more or less, as far we were concerned! As a group, privately who knows or cares what your views was away from the the lads was,, there was and there wasnt, least among us anyway and especially skinheads who were the hardest lot of the roughest manors, but I am sure Teds, Rockers, fuck even some working class hippies that went along for the trip as it were spoke like that,or picked on someone or something they didn't understand that they felt weary of amongst not just kids but everyone at that time.
Most skinheads got a bashing from other skinheads most people amongst us was working class, and most of them were skinheads, or related to skinheads. I recall skinhead battles tales amongst the groups , and later on, about area gangs, they didn't think in terms of London boroughs, just London areas and it was all very Territorial, for example there was Somers town, were I was, Kentish town, Upper Holloway Archway,Clarkenwell ,Shorditch/Hoxton/ Dalton, Queens Crescent, Camden town, then going eastwards there was Stoke Newington, Clapton and then the East End, Bethnal Green, Mile end , Wapping, Stepney, go further east and you get Canning Town, or West Hammersmith, Chelsea Fulham and Shepherds Bush.
Or you might know guys from these areas from work in the centre or boxing club circuit, or gigs, and you would talk and have a laugh but if you were meeting for a ruck then you be knocking shit out of each other if they were representing the area, and further to that, you might have a West Ham or Chelsea supporter in your local gang who would fight with you if you were called out by another manors lot but as they were mostly Arsenal around our way any friendship went at for that fixture. same goes for an Arsenal supporter from Fulham he'd be rucking his mates at football and come Saturday you looked at the scarf not the person that's what how mad it was I have been told about it from older skinheads that I used to admire when I was looking at them from my bedroom window, fuck some of these guys are in there 70s now.
It was slightly different when I turned the age to shag and ruck but not that far off, but you get me gist !!! so I think Asians at the time got more of ribbing then a hiding it was other groups but most people would unite if they saw greasers setting on a skinhead or what you deemed as one of your ownAs for the Hambourgh tavern I've got my own views on that I was there although not for long we couldn't get to it, but I remember feeling so fucking angry, to see skins that look like they were on the side of the the filth again it was whipped up by both right and left, press and lay politicians and more so the music press who hated the thought of working class council kids being a force,
I don't blame the Asians, they were young fuel filled lads protecting their area or what was force fed to them,they were young like us and was up for a ruck, like any group of whipped up teenage lads, we wanted to go down here or there and make some working class noise and have a few pints. I'm not a conspiracy weirdo, but there was so many reasons why the fucked up middle class left, the fucked up Nazi right wing plus the broadcast media and music press caused that, as the latter didn't like something that was based around youth led pastime angst and they didn't like something that they didn't make or break because it was real and not manufactured, it was something that we could enjoy and dictate what happened with it. It served our purpose, it gave birth to the boneheads that have soiled a working class culture and ruined the fledgling stages of young rock n roll bands,And took away a good deal of their income at a time when they should of been making it good. We could enjoy a good few years of live working class punk rock, seeing as it was taken away from its own manufacturers and given to people who could enjoy it it started going down hill after the Clash signed to CBS it was salvaged and put to good use but the press wanted it dead. These days we can relax with it as our first love and enjoy the Ska and rocksteady that we adopted, and still love, through our own choice as Middle Aged skinheads, that the music press didn't intend us to love and there's fuck all they can do about it!!! I've got through a whole pack of 20 smokes, in the time it's taken to do this, didn't realise the time, that's more then i get through in three days, but I have enjoyed sharing this with you all…. as you can tell I can go on for ever about this…
Those days were right proper heady,, faces were on stage,in bands that you knew from  seeing them around the chippy/ newsagent in tobert street,,or the youth club, and you know faces from school ,, punk , Arsenal ,especially (Arsenal/Highbury grove ) school , most of the locals around our way went to William Collins ,, I was expelled from secondary schools,, St George's in St. John's wood, Highbury grove, ect , only two weeks at William Collins,
I was used to seeing loads of local faces being on telly,, in bands, you took it for granted,(Pauline's people then Grange Hill)  70s corona drink ads,ect ,, i stopped noticing,,
people from Anna Scher and all that!!! and so on,,but I know who your talking about now ,Low Numbers, they were in the Dublin castle,,i recall ,seen em with Madness,( or invaders, cant remember what stage they were at, the time) loads of us started bands, we loosely played,,,,but nothing proper,,, some bands went further then others,,we were called THE St Pancres Chronical   after the local Rag, but we were shit,,, I played guitar but every time I picked i it up , I just ended up playing Blues,,,bending notes,,,and sounding to much like Heavy Rock?,, I was fine with it, but it pissed the rest off,,,so we decided to stick to being in the crowd watching/ listening,

,,coz I knew people from other  schools in other manors , we kind of broke away from Cumberland market faces , except for four mates in  Robert st,,,and The Crown Flats,local people became  just another face  ,,you recognised ,and the families they came from,,, and who your dad and grandad drank with,
,There was a local crooner  type who  went of to the Army,,, geezer called Gary Driscoll,, he was the first local I knew off, that was dragged up there!! To get noted,,
,my ole man used to be mates with the landlord,of the Dublin castle ,then a Irish fella called Barney Finley,,I was. Mates with his boy Raymond,, they passed it on to the present family,,in the late 60s ,we used to run about in there  after lock up,  two o clock on Sunday afternoons, coz we'd often go to  av sunday dinner with them!!so it was only right I would later make that me local,, so  i witnessed the start of all that too,,was lucky Spose living between West End and Camden Town,
,,I was able to get into clubs in soho,,in the late 70s coz me dad knew all the faces and names ,Jimmy  and Rusty Humphreys  ect,, that's why I was able to hang about  the latest clubs, being younger,me dad ran an electrical repair /retail shop ,,in Berwick street,called Friel and Francis ,with me uncle Bob (pic,on the front of oasis album), would you believe,, the first parking metre in Westminster was unveiled outside the shop,and  a young spiv that hung about in and out was Alan Suger came down  parked his van with hilivery   A .M .S .TRADING,,marked on the side,coz he knew the press would be snapping, me dad used to sell his car Ariels,(cute ,, got to love that)  anyway they  used to rig up the sound in Ronnie Scott's,
I used to bunk of whatever school I was in ,to work on Berwick street market,,,
,we used  wheel the sack barras to pick up the veg  and stuff from around what was to become the Roxy before the fruit and veg moved across the river,, John Holt used to have something to do with it ,  I remember , it was converted  from that,,,so that's why I familiar  to it to hang around there,,later,,, coz I was a cocky little shit, and coz Eaters drummer was from the sticks and was our age , we dint want him to out do us ,to be part of it all.. ,  i knew Id be looked after,,by someone that would be to hand,,if it got to heavy we could UP any older punk that snarled at our presence,,when they did, we was quick to take of our young punk head , and say "we ain't fucking punks were skinheads",,,you tossers,,, although we were at the time,,, lot of the older punks were from the sticks,, so when we got snarled at ,, we'd give it  our "( we're from here,you ain't  and you don't know what's around the corner on the way out ,)
,,the other local connection was my grandads drinking buddy ,who liked drinking with riff raff,was Constance Lambert, he used to live up Park Village East and come down to The Victory ,in Albany St ,he used to drink like a gooden apparently , corse he pegged it before I or the The Who was born,so he dint see his sons  success ,!