Xtraverts
The Xtraverts formed in 1976 at the outbreak of the punk movement. Creating music in a garage belonging to the guitarist Mark Reilly (Matt Bianco).
Playing classic venues such as the Roxy, Clarendon, the Greyhound and all over Buckinghamshire, Berkshire and Oxfordshire they created a massive following from all over the country with gigs selling out nationwide. The Xtraverts appealed to the skinhead and punks alike and garnered a reputation for clashing with the local hooligans, while often a deterrent, it was also a draw to those fans wanting to revel in the atmosphere and feel part of the Xtraverts Crew.
The Xtraverts played with many the bands of the time, such as 999, The Vibrators, The Damned, Visage, The Satellites, UK Subs, Johnny Kidd and the Pirates and many more. They also were part of the emerging punk scene playing alongside bands The Lurkers, The Slits, The Banshees, in 77-79, were regulars in the crowd and sometimes onstage at the Roxy
They released three singles in their early career, Blank Generation, Police State and Speed, which are now highly collectable records (especially the limited edition "puke" pressing of Police State). Their first album "So Much Hate" was released on Detour Records in 1978, and is still available in digital format today.
Their unique sound also appealed to a more mainstream audience, with appearances on John Peel's radio show, a TV feature with Danny Baker and a show called Twentieth Century Box with Janet Street Porter looking at the impact of independent bands and labels on the popular music scene.
Over the years, many of the band members ended up in prison, however through quick changes and substitutions, the band carried on regardless. The death knoll for the band finally tolled however when singer Nigel Martin was imprisoned in 1980, the band finally naturally grew to a close. Without its front man and driving force, the musical direction faltered and the band members went their separate ways.
Over their relatively short career, the band had underground success with the single "Police State" and were Number 1 in both the Sounds and NME independent charts. While the band was enjoying its indie success former member Mark Reilly was topping the National mainstream charts with "Get out of your Lazy Bed" with his new band Matt Bianco. The Xtraverts past and present were enjoying a heyday that dominated across the music scene.
The band often made the alternative and oi! charts in sounds magazine in the early 80′s, and picked up a huge following, but circumstances and perhaps major labels not picking them up, like contemporaries, the Clash and Sex Pistols, the world never got to see the band.
30 years later,and after the death of bass player Mark Chapman, the Xtraverts, After meeting up with an old mate Symond Lawes, Manager of X-ray Spex and Concrete Jungle promotions, have decided to release some of their material, at the moment busily digging through the loft and remastering, what will always be pure Punk Rock. There may possibly be a one off gig, sometime in 2014…… Watch this space
"The Xtraverts were such a major influence on my life. Of all the Punk shows i have attended over the last 10 years, i have always thought, i would just so love to see the Xtraverts up on that stage. Lets hope that dream comes true, and the world get to hear such classic tracks"
Symond lawes
The Xtraverts are back, punk never dies!
Mark P. StreetWize magazine 2013
all enquiries subcultz@gmail.com
Wikipedia version of Oi!
Oi! is a subgenre of punk rock that originated in the United Kingdom in the late 1970s. The music and its associated subculture had the goal of bringing together punks, skinheads and other working-class youths (sometimes called herberts).
The Oi! movement was partly a response to the perception that many participants in the early punk rock scene were, in the words of The Business guitarist Steve Kent, "trendy university people using long words, trying to be artistic…and losing touch". André Schlesinger, singer of The Press, said, "Oi shares many similarities with folk music, besides its often simple musical structure; quaint in some respects and crude in others, not to mention brutally honest, it usually tells a story based in truth."
History
Oi! became a recognized genre in the latter part of the 1970s, emerging after the perceived commercialization ofpunk rock, and before the soon-to-dominate hardcore punk sound. It fused the sounds of early punk bands such as the Sex Pistols, the Ramones, The Clash, and The Jam with influences from 1960s British rock bands such asThe Rolling Stones, the Small Faces, and The Who, football chants, pub rock bands such as Dr. Feelgood, Eddie and the Hot Rods, and The 101ers, and glam rock bands such as Slade and Sweet. First generation Oi! bands such as Sham 69 and Cock Sparrer were around for years before the word Oi! was used retrospectively to describe their style of music.
In 1980, writing in Sounds magazine, rock journalist Garry Bushell labelled the movement Oi!, taking the name from the garbled "Oi!" that Stinky Turner of Cockney Rejects used to introduce the band's songs. The word is an old Cockney expression, meaning hey or hello. In addition to Cockney Rejects, other bands to be explicitly labeled Oi! in the early days of the genre included Angelic Upstarts, The 4-Skins, The Business, Blitz, The Blood, and Combat 84.
The prevalent ideology of the original Oi! movement was a rough brand of working-class rebellion. Lyrical topics included unemployment, workers' rights, harassment by police and other authorities, and oppression by the government. Oi! songs also covered less-political topics such as street violence, football, sex, and alcohol. Although Oi! has come to be considered mainly a skinhead-oriented genre, the first Oi! bands were composed mostly of punk rockers and people who fit neither the skinhead nor punk label.
After the Oi! movement lost momentum in the United Kingdom, Oi! scenes formed in continental Europe, North America, and Asia. Soon, especially in the United States, the Oi! phenomenon mirrored the hardcore punk scene of the early 1980s, with Oi!-influenced bands such as Agnostic Front, Iron Cross, Anti Heros. Later American punk bands such as Rancid and Dropkick Murphys have credited Oi! as a source of inspiration. In the mid-1990s, there was a revival of interest in Oi! music in the UK, leading to older Oi! bands receiving more recognition. In the 2000s, many of the original UK Oi! bands reunited to perform and/or record. The song T.N.T. by hard rock bandAC/DC features the interjection at the start and in various parts throughout the song.
Association with far extremist politics
Some fans of Oi! were involved in white nationalist organisations such as the National Front (NF) and the British Movement (BM), leading some critics to identify the Oi! scene in general as racist. However, none of the bands associated with the original Oi! scene promoted racism in their lyrics. Some Oi! bands, such as the Angelic Upstarts,The Burial, and The Oppressed were associated with left wing politicsand anti-racism. The white power skinhead movement had developed its own music genre called Rock Against Communism, which had musical similarities to Oi!, but was not connected to the Oi! scene. Timothy S. Brown identifies a deeper connection: Oi!, he writes "played an important symbolic role in the politicization of the skinhead subculture. By providing, for the first time, a musical focus for skinhead identity that was 'white'—that is, that had nothing to do with the West Indian immigrant presence and little obvious connection with black musical roots—Oi! provided a musical focus for new visions of skinhead identity [and] a point of entry for a new brand of right-wing rock music."
Rightly or wrongly,The mainstream media especially associated Oi! with far right politics following a concert by The Business, The 4-Skins, and The Last Resort on 4 July 1981 at the Hambrough Tavern in Southall. Local Asian youths threw Molotov cocktails and other objects, mistakenly believing that the concert was a neo-Nazi event, partly because some audience members had written National Front slogans around the area. Although some of the skinheads were NF or BM supporters, among the 500 or so concert-goers were also left-wing skinheads, black skinheads, punk rockers, rockabillies, and non-affiliated youths. Five hours of rioting left 120 people injured—including 60 police officers—and the tavern burnt down. In the aftermath, many Oi! bands condemned racism and fascism.
These denials, however, were met with cynicism from some quarters because of the Strength Thru Oi!compilation album, released in May 1981. Not only was its title a play on a Nazi slogan—"Strength Through Joy"—but the cover featured Nicky Crane, a skinhead BM activist who was serving a four-year sentence for racist violence. Critic Garry Bushell, who was responsible for compiling the album, insists its title was a pun on The Skids' album Strength Through Joy, and that he had been unaware of the Nazi connotations. He also denied knowing the identity of the skinhead on the album's cover until it was exposed by the Daily Mail two months later. Bushell, a socialist at the time, noted the irony of being branded a far right activist by a newspaper that "had once supported Oswald Mosley's Blackshirts, Mussolini's invasion of Abyssinia, and appeasement with Hitler right up to the outbreak of World War Two."
Another subsequent source for the popular association between Oi! and a racist or far-right creed was the bandSkrewdriver. Lead singer Ian Stuart Donaldson was recruited by the National Front—which had failed to enlist any actual Oi! bands—and reconstituted Skrewdriver as a white power skinhead act. While the band shared visual and musical attributes with Oi!, Bushell asserts, "It was totally distinct from us. We had no overlap other than a mutual dislike for each other." Donaldson and Crane would later go on to found a magazine, Blood and Honour, and a street-orientated 'skinhead' club of the same name that arranged concerts for Skrewdriver and other racist bands such as No Remorse. Demonstrating the ongoing conflation of Oi! with the white power skinhead movement by some observers, the Encyclopedia of British and Irish Political Organizations refers to these groups as "'white noise' and 'oi' racist bands".
The feckin Ejits were formed in 1982, amidst the full on punk skinhead scene in Aylesbury. England. The main venue in town being Friars had a regular stream of the top punk and 2tone bands coming through, so it only felt natural a local band should get involved.
Largly due to the fact he couldn't live in his home town of Bedford, because the local crew had a few run ins with the local authority. ( A riot)
Released from jail the police oppression being to much, Aidan sniffing a bit of skirt found himself involved in the local Aylesbury scene.
The explosion of Oi in 1981, saw punk move into a more aggressive street sound than the earlier Punk, so over a few beers, a few mates decided to form their own band, well it sounded like more fun than doing your dole cheque every week on someone elses gig. Des Bhatt- bass,  Neil Ledbury- Guitar, Alex Morison – Guitar, Dave wood on drums  and Aidan Sterling Lead shouter agreed that the time was right to show the punk scene how to do it
The musical influence based purely on the stuff they liked to hear themselves, meaning 100mph punk, but with catchy sing along choruses, a sprinkling of psychobilly and a pinch of Irish folk.
"Lets just play what we like hearing, if people don't like it, well tough luck, we won't last long" Says Aidan
The Ejits didn't intend to change the world. They weren't looking for a revolution or to be featured in the latest Kings Road fashion magazine. If a few mates turned up had the Craic and the band got a few free beers in the process. Good enough result.
Aylesbury, not exactly brimming with high quality venues, one of the lads girlfriends worked in a coffee shop. Convincing the owner this band might be able to shift a few coffee's, the owner agreed to some light entertainment.
With a quid for the soundman entry fee, the doors opened to over 100 of the local punks and skinheads, Cider under the jacket, vodka down the girls knickers, the party began. The total of 6 songs were ready, but the crowd were going mental after the 20 min set was done, so the lads just cracked into rehearsal tunes, like Rupert the bear and knees up mother brown, then repeated the whole set again.
The lads threw all they had into having a blast and enjoying themselves, and it rubbed off on every one, the beer flying, mental disorder at the front, and good natured aggression and grins.
Word spread like wild fire, and within a few gigs people started showing up from all the surrounding areas, High Wycombe, Oxford, Reading, Bedford and London.
They built up a large and loyal following of punks skinheads and flat tops with a bit of every other sort of youth too and the Ejit crew went everywhere the band did, taking their brand of knees up mayhem where ever they went.
The diversity of bands they shared the stage with shows the wide appeal of the Ejits. The Pogues, king Kurt, the Vibrators, Dr Feelgood. Peter and the test Tube babies, Uk Subs Exploited, meteors The Business and many more. Crossing barriers into Oi, Punk, Psychobilly and Pub Rock. The Ejits weren't out of place, mainly because of the infectious party atmosphere they always created. The Craic was had by all
They only released two tracks on an album. The Picket song and Ejit party, both on this is oi album (Link records)
Mainly due to the fact that all the money they ever earned went on a few rounds with the very people who'd bought the tickets, there was never any money to go into studios and record. The band just blasted it out live, the crowd went mental, and everyone woke the next day in some squat surrounded by empty bottles, a few birds if they were lucky and  all the local punks and skinheads
Times moved on, and Like most bands there came a time when enough was enough and in 1987 the Ejits last stand was performed, A farewell gig and a thank you to everyone who had bought the t shirts ,boarded the coaches, fought ,fucked, got pissed with the lads, jumped on stage jumped on the band and had the savage Craic.
Over 450 turned up and the night was deadly, a film crew were paid to capture it all for posterity, but of course, in true Ejit style they filmed the disco the support band, the bouncers and bar staff but forgot to turn the camera on for the Feckin Ejits themselves.
All that was captured is a few encores with the roadies singing and Dave the drummer with Alex on stage. The rest of the band  were in the audience grinning and dancing like loonies with the crowd, going out the way they came in with a noisy  100mph knees up…..1234 Ejits are go!!!
OTFH
After the sad passing of Alex this year The Ejits have decided to take to the stage at The Great Skinhead Reunion in Brighton, to pay tribute to him and to have a good jolly up with loads of old friends.
RON 
RON WATTS PUNK PROMOTER

 

Fr

iday 17th November 2006, 30 years since Punk detonated, and I had the pleasure of sharing a few drinks with Ron Watts in my home. Ron promoted many of the early bands, and organised the now legendary Punk Festival at the 100 Club on the 20th and 21st September, 1976. Ron's just published a great book which documents those heady and (for those lucky enough to have been there) exciting times. I switched on the tape recorder, put some wine on the table and off we went, talking about our mutually favourite subject. Music! I hope people will find this interview as interesting as I did, he's a top bloke with some great memories.




Rob Maddison, Tamworth, 19th November 2006.

 

100 Watts, a life in Music. Written by Ron Watts and forward by Glen Matlock. ISBN 0-9543884-4-5. Available from Heroes Publishing, the Internet (it's on Amazon) or even a bookshop!

RM) Ron, firstly, why did you write the book?
Ron) I was approached by the publishers, who said "would you be interested in writing your life story". I thought about it, for about two days, and then thought yeah. Yes, I'd do that, you know what I mean.

RM) How on earth did you remember everything?
Ron) Most of it was in the house, still. I just had to find all the old diaries and booking sheets and things, and it jogged my memory, you know. 

RM) You kept all that stuff, then Ron?
Ron) Well, yes, I suppose you would, really, wouldn't you. To be honest, I sold some stuff off at auction, about 10 years ago, when I was skint. One thing was the Sex Pistols contract from the Punk Festival, which was handwritten by Malcolm McClaren.

RM) Who bought it?
Ron) I think it was the Hard Rock Café in Central London, to put up on the wall.

RM) When's your next promotion Ron?
Ron) Well, I haven't been promoting for a while, but it's in my blood, and people are expressing an interest in me doing something. I've got 2 venues lined up for the new year, look here for news, come February. We've venues in Oxford Street and High Wycombe, but can't say too much at this point!! These gigs are to be known as Ron's part 1 and 2…

RM) Who are you promoting?
Ron) What I did in 1977. 

RM) What, new "Punk" bands, such as The View etc?
Ron) No. Same bands I did in '77. Same bands in the same place. Some of them are reforming, I've been on the bone mate!!

RM) Who are you still in touch with from those days, Ron?
Ron) Virtually everybody. People from the Sex Pistols, met some of the Clash quite recently, Damned I'm still in touch with, no end of people. 

RM) Glen Matlock wrote the forward to the book and is obviously a decent bloke.
Ron) Glen is a nice bloke, and definitely part of the Pistols, but is his own man.

RM) Did you ban Punk?
Ron) No. Punk was banned around me, and while it was banned at one venue, I still considered doing it at another, the Nags Head in High Wycombe. At the first opportunity for it to go back into the 100 Club it went back in. It's a false supposition to suggest I banned it. It was banned because the police and Oxford Street traders association objected to Punks standing in queues outside their shops waiting to get into the club. At this time Oxford Street was the premier shopping street in Europe. I'd be getting complaints, so would go out into the street and try and get people to move out of shop doorways etc, but as soon as I went back in the club they'd be back in there. And of course there'd been some real bad violence. When a girl loses her eye that's a pretty serious thing. You have to remember that I didn't own the club, I just promoted there. Simple as.


RM) Did Sid Vicious throw the glass that injured the girl's eye?
Ron) Well, I presume so, the barman saw him do it. He didn't know Sid from Adam, but he pointed him (Sid) out and told me it was him that threw it. I don't think Sid meant to hurt anybody, except the Damned! If it had caught Captain Sensible on the head he'd have liked that! Funnily enough I was down at the 100 Club a couple of weeks ago, and Michelle Brigandage, who took some of the photos in the book, was telling me that she was actually sat with the girl who lost her eye. Apparently she was an art student from South London, never wanted any publicity and was broken hearted, as anyone would be who lost an eye, especially at that age. She was only 19 at the time. Michelle was sat with her when it happened, she was her mate, and it's the first time I've had a real chat about it. She said herself that though she accepts that it was Sid who threw the glass, he hadn't intended to do that. But at the same time, he had thrown the glass with malice, and might've done even worse damage to someone else, you never know. So in one sense, he's exonerated to a degree, and in another sense he's still a malicious Pratt.


RM) Was there any collusion to get Sid off by discrediting the barman's story?
Ron) No, but so many people went down with him, to the police station, and said he didn't do it that the CPS probably thought 250 against 1 and dropped it.

RM) Were you surprised by Sid's eventual demise?
Ron) No. You know, his mother, Ann Beverley moved up to Swadlincote, near here. She got some money from Sid's estate, and the Pistols gave her some money. She got a cheap house and a few bob in the bank, and when she'd run through that she topped herself. As for Nancy, the police weren't looking for anybody else, but we don't know, do we.

RM) Ron, how proud are you of your role in Punk, and could it have happened without the 100 Club?
Ron) Yeah, it would've happened anyway. It might have happened in a different way, but I suppose the traumatic birth it got, and the big hand it got via the Punk festival etc helped, otherwise it might have taken a bit longer. 

RM) Could it have started in any other city other than London?
Ron) I think it needed London. It gave it the credibility. It might have happened somewhere else, and it might have been more interesting if it had happened, say, in Liverpool or Newcastle or somewhere, but it would have taken longer to be accepted, and London would have taken longer to accept it.

RM) I suppose the Pistols, who catalyzed the movement were a London band, and people like Paul Weller, Pete Shelley etc always say the seeing that band is what galvanised them.
Ron) Yes. They were the catalyst. We needed to have them in the Capital, playing in the middle of the Capital. It was always going to be a shortcut for them, you know. So yes, it would have still happened elsewhere, but in a different way.


RM) Whose idea was the 1976 Punk Festival at the 100 Club?


Ron) Mine. My idea, yeah. I approached Mclaren, as I knew that I needed the Pistols to headline it. And the Damned, they said that they wanted to do it, and The Clash agreed immediately, then we had to cast around to find some more. The Manchester bands were got down by Malcolm (Mclaren). Siouxsie approached me direct, although it wasn't much of a band. Then, the Stinky Toys were volunteered by Mclaren, although I'd never heard of 'em, and hardly anyone's heard of 'em since! Never mind, they got on eventually on the second night!

RM) I read in the book that the Grande Piano on the stage got used like a climbing frame. Were you actually liable for damages if things got broken?


Ron) The piano wasn't going to get moved off the stage. It always stays there. Thing is, you've got to remember that it was a running, 7 nights a week club, for Jazz and Blues mainly, and the piano was a part of all that. The owners of the club left me to it for my nights, very seldom that they were there, even. If the place had been wrecked, it would've been down to me, I'd have had to pay for all the damage, you know.

RM) Punk 77's owner wondered if you thought the Banshees sounded as bad as he thought they did?!
Ron) Well, in '76 they weren't really a band, you can't comment. What they were doing was performance art, just getting up onto the stage and doing something off the top of their heads. They didn't know any songs, and it sounded like it. It was weak, it was weedy. Sid just about tapped the drums. Siouxsie was doing the Lords Prayer and stuff like that. You couldn't say it was a gig, or a rehearsed act, it was just people, getting up and trying to do something. I let them do it, you know, I might have done something like that at their age. I don't think Siouxsie really lived up to her reputation, if you like. Well, not initially. 

RM) I didn't like them, but the Banshees went on to become very skilled, musically.
Ron) Yes. By then she'd recruited some good blokes. She's been living in France for a long time now, I don't see her.
 Hello everybody!! We have a record & clothing store in Rochester NH that sells a wide variety of Punk, Oi! & Ska records & clothing. If you are not from the area we do have an online store we have just started up 
www.skele-tone.com
 or you can find us on facebook Skeletone Records add us as a friend we do mail order for anything you cant find on our website!!! If you have any questions or comments feel free to leave them here or email us as
skele_tone@hotmail.com
.
We hope you like the store we work very hard to support the scene. Cheers!!!
Senseless, loud, fast and heavy punk rock band from Stoke On Trent, England featuring the line up of Moz guitar/vocals, Justin bass/backing vocals and Dave on drums. formed in 2000 original line up of moz gaz fieldsy leon realeased one for the road cd on cityrat records soon after leon left leaving moz fieldsy gaz 2010 sean replaced feildsy on bass before leaving along with gaz in 2012 after a successful show at rebellion festival to persue other projects leading o justin coming in on bass and dave on drums
Can the UK's 'toilet circuit' of small music venues survive?
From Punk Rock,Ian Dury, The Police, U2, Madness, Coldplay to PJ Harvey, Amy Winehouse, and countless other big British rock acts started out playing tiny pubs and clubs around the UK. But with many of these venues closing, who will keep the rock'n'roll dream alive?
Will another coffee shop bring in £ billions, tourists, radio play and record sales worldwide, that so many British bands have done for the UK. Small pub curcuit is the first step to a carreer, and artform, that british people hold so dearly to their hearts. The Government war on pubs and alcahol consumption will have its casualties, and British music is suffering severely. Every person that comes to the UK to see a band will bring on average around £500 to the British economy. The translates to £millions every year. Bands didnt start their career, at Wembley arena. Are we going to hand over the entire music industry to 5 minute kareoke singers and make Simon Cowell a bit richer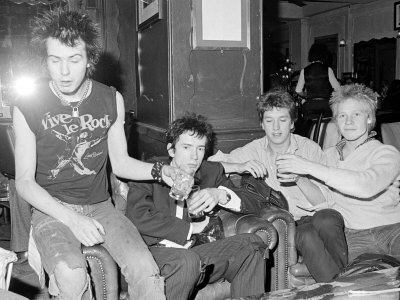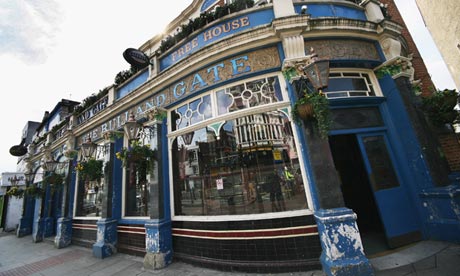 The Bull and Gate in Kentish Town in north London. Its closure is partly due to the city's music scene migrating eastward. Outside the capital, things are even tougher. Photograph: Dan Kitwood/Getty Images
The Bull and Gate in Kentish Town in north London is, in music-business vernacular, a "toilet venue", where the stage can just about accommodate a four-piece band, and the dressing room contains a solitary grubby mirror. But the term does this place a real disservice, both in terms of the ornate Victorian splendour of the main bar, and in the roll call of names who have played in the 150-capacity back room – among them, Madness, The Clash Coldplay, Pulp, PJ Harvey, Muse, Blur and the Manic Street Preachers.
After three decades of hosting gigs here, the landlord and landlady are selling up and retiring. The Bull and Gate has been bought by the brewery and pub company Young's, who are apparently set on turning it into a gastropub ("We don't feel that having a live music offering at the pub alongside our plans to serve food is viable," went one company statement). The venue's current music promoters, a four-person outfit called Club Fandango, will stage their last show on 4 May, which will be preceded by a special run of gigs, likely to feature notable alumni of the Bull and Gate, to be titled Play Your Respects. And that will be that: yet another small music venue shutting its doors, adding to a list of closures that extends across the country, and threatens one of British popular culture's most inspired inventions: the so-called "toilet circuit", on which no end of hugely successful musicians have taken their first decisive steps.
In London, as with most matters reducible to hard cash, things are not as bad as elsewhere: here, the story is partly about decline, but also a migration of venues to the east of the city, as ongoing gentrification pushes live music out of its old north London stamping grounds. But beyond the M25, things look grim. The national Barfly chain, which had venues in Brighton, Birmingham, Cambridge and Cardiff, closed most of them between 2008 and 2010. Such famous places as Leeds's Duchess of York, Newport's TJs and Leicester's Princess Charlotte have either been converted to new uses or left to fall into disrepair.
Others are surviving, but struggling: the people in charge of the renowned Hull Adelphi have expressed serious doubts about its future, and venues such as the Tunbridge Wells Forum are now staffed by volunteers. Four or five years ago, the music business clung to the idea that even if sales of CDs were being squeezed, people's appetite for ticketed live events looked to be increasing. That may hold true for bigger venues, but at the bottom of the live hierarchy, a new rule seems to hold sway: if people now expect to get their music for nothing, they increasingly think that the same ought to apply to watching new bands, no matter how promising they might be.
Twenty or so years ago, when I was a young music writer, I spent most of my evenings in these places, keeping myself going on lager and cigarettes, watching endless bands and occasionally finding music worth evangelising about. It's a life I still miss, when I used to keep the company of some of the people whose drive and enthusiasm still keep the milieu around small venues alive today – people such as Simon Williams, the one-time staff writer at the New Musical Express who went on to found esteemed independent record label Fierce Panda, before also extending his activities into gig promotion and eventually rooting Club Fandango at the Bull and Gate.
Sitting in an alcove in the pub's main room, Williams and his business partner Andy Macleod briefly rhapsodise about triumphant Bull and Gate moments (when Coldplay played here in April 1999, says Williams, the queue extended down Kentish Town Road, and they were "just too good"). They also talk me through the events of the last few years: their attempts to buy the Bull and Gate to use as a venue and company HQ, and a quest to secure sponsorship which included a pitch to the makers of an iconic energy drink built on the rebranding of the place as the Red Bull and Gate: "We said to them, 'You can just paint it, like you do with Formula 1 cars – it's the greatest tag-line of all time.'"
They have now found a new venue in Dalston, but the imminent closure of the Bull and Gate evidently still hurts. "It'll be appalling when it actually goes," says Williams. "I've been coming here since 1986, when I was doing a fanzine. That's a long time. We're absurdly romantic about this place, and absurdly loyal."
"Once it becomes a gastropub, that's final, isn't it?" says Macleod. "That 33 years of musical heritage just disappears. It'll all feel really sad."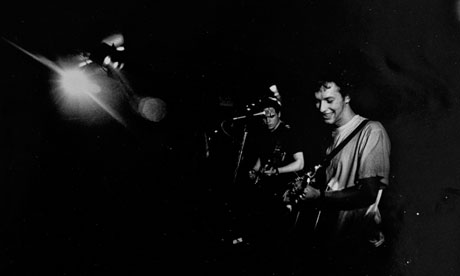 Coldplay on stage at the Bull and Gate in London in April 1999, the night they signed their record deal. Photograph: Sarah Lee for the GuardianThe squeeze affecting small venues, they tell me, is down to a tangle of factors: among them, the transformation of urban neighbourhoods such as Kentish Town, the rise of free gigs where the band get a cut of the bar takings, and a music industry that now gets involved with up-and-coming acts at an absurdly early stage. "There's no money in new bands, we all know that," says Williams. "But now, with the hyper-speed of things in the music industry, you get in touch with a band who might be doing their first gig, and it'll be, 'Talk to our manager, who's got to talk to the lawyer and the agent.'"
Purely to be seen to be doing their job, they tell me, a band's representatives might now demand a guaranteed fee of anything up to £75. When the costs of a night at the Bull & Gate come in at least £200 before any musicians have been paid, that threatens the whole viability of the enterprise, not least when every promoter fears the turnout music industry lore knows as "two men and a dog".
Tonight's bands draw a combined crowd of around 40. First on are an unremarkable-looking quartet called Civil Love, who play a surprisingly accomplished version of the melodic genre some call power-pop. Next are Evil Alien, a part-electronic band from Birmingham who have driven down to play their first London show, pulling in talent scouts from record companies and a smattering of curious booking agents. Last, bless them, are a White Stripes-esque duo called I Like the GoGo, who send me running from the room with their somewhat irreverent treatment of the Dexys Midnight Runners' song Geno.
Back at the bar, I talk to the Bull and Gate's landlord, 70-year-old Pat Lynskey, who speaks with the wry detachment of a man who has seen a few generations of musicians and drinkers come and go, and will soon be spending his first summer in over three decades well away from beer taps and time bells. "I think in the last five years, technology has not been good to us," he says. "Prior to that, people had to come and see what was on, and they'd stay for the night. Now, they can check everything on their phone before they leave. And if they don't like it, they won't come."
History records that the Manic Street Preachers played at the Bull and Gate on 17 October 1990, when they had just put out an almost-ignored record titled New Art Riot, and were trying desperately to get the attention of the weekly music papers, and again on 17 July of the same year, in even less auspicious circumstances.
"We were on after this really weird folk band, who were Russian or Ukrainian, I think," says their bass player and lyric writer Nicky Wire. "We walked on stage, and the first thing I said was, 'Fuck me – no wonder so many Russians kill themselves', to a very bemused audience. We did about five or six songs. It was a bit of a thrill to play there, because it was always on [1980s and 90s TV staples] Rapido and Snub TV. It did feel like a really good gig to do."
He recalls the shabbiness of the kind of places the Manics once played, but also the romance they embodied. "There was definitely a ragged glory to it. You felt you were treading the boards of heroes, because nearly everyone we loved had done the same thing." He mentions vividly remembered gigs at the Leeds Duchess of York, the long-gone Buzz Club in Aldershot, and Southampton Joiners, where the boss of the Columbia record label paid the band a visit, and their career-securing contract was thereby confirmed.
The 200-capacity Joiners is now battling to survive, which leads me to pay a visit the night after my trip to Kentish Town. Having never been there before, I'm thrilled to find a toilet venue par excellence: a bar whose furnishings extend to two apparently paleolithic sofas, a disused subterranean dressing room – flood-damaged, it seems – covered in graffiti left by visiting musicians ("Razorlight – I want to torture you slowly and let you die in a lot of pain"), and an abiding sense of everything being held together by simple goodwill.
"The chances of us closing are massive," says the venue's manager, the imposing but genial Patrick Muldowney. "Every Monday morning, we see what bills we can pay – and some weeks, we don't have enough money, simple as that." Recent benefit concerts by the Vaccines (toilet circuit graduates who will soon play the 20,000-capacity O2 arena in London) and the singer-songwriter Frank Turner have brought in much-needed funds. But times are unendingly tough: whereas he could once depend on even local bands drawing in at least 30 paying customers, Muldowney says the figure is now closer to 10. "It's a two-thirds drop-off," he says, with a grimace. "So it's massive."
As in London, Southampton now sees regular free gigs in standard-issue bars and pubs that are financed by sales of drinks, something made easier by a recent legislative change that got rid of any need for an official music license for venues that hold up to 200 people. For the Joiners, that kind of event is pretty much impossible: it has an over-14 license for its music room (an integral part, says Muldowney, of its ethos), and a much more thrifty culture. "The difference between us and a pub is that 50% of our crowd won't buy a drink all evening," he says; the Joiners' head band booker, Ricky Bates, also points out that whereas lesser venues will offer little better than a "karaoke PA", the Joiners prides itself on an estimable sound system, but it needs a paid engineer to work it.
Tonight's headliners are the History of Apple Pie, who play indie-rock built on a mixture of sweetness and noise, and are at the end of a 19-date tour punctuated by nights spent at Travelodges and the odd recuperative stay at parents' houses scattered around the country. Before them, I watch a local trio called Imperatrix, who are bedevilled by colds and flu, and by the fact that their drummer learned their songs a mere 12 hours before. They deliver a performance full of very familiar ingredients: brief flashes of promise, gauche repartee and the sense that with enough visits to venues like this, they might just discover who they actually are.
On my way out
, I'm given a Joiners T-shirt, covered in an A-to-Z of the bands who have played here – from the Arctic Monkeys to the Zutons. Next to the door is a list of forthcoming attractions, featuring names that instantly convey the mixture of bravado and creativity that often courses around places like this: the Dead Lay Waiting, Our Lost Infantry, Burglars of the Heart. And a potent thought once again hits home: what a profound pity it would be if the toilet circuit was allowed to rot away – leaving endless free music and ad hoc gigs, but no dependable means via which musicians can been transported away from their home turf, towards something bigger.
"It gets under your skin, doesn't it?" says Muldowney, by way of a goodbye. "You fall in love with places like this." Counting in a steady stream of people at the door, he looks firmly in his element, though he views the future with an uneasy mixture of hope and uncertainty. "I'm an eternal optimist," he says. "We'll certainly be here in a year."
UK toilet circuit landmarks past and present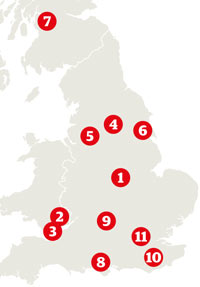 1 Leicester Charlotte (formerly Princess Charlotte; capacity: 200)
Hosted Oasis, the Libertines, Muse et al, but closed in March 2010, to be developed into student flats.
2 Newport TJs (capacity: 350)
A legendary venue where, in December 1991, Kurt Cobain is said to have proposed to Courtney Love. Closed in 2010, and has fallen into disrepair.
3 Cardiff Barfly (capacity: 200)
Part of a chain of small venues that hit the buffers between 2008 and 2010. Hosted future US stars Kings of Leon on their first UK tour.
4 Leeds Duchess of York (capacity: 200 officially, 300 on a good night)
Put on gigs in its cramped back room by such future stars as Nirvana, Coldplay and Pulp. Now a branch of menswear giant Hugo Boss.
5 Manchester Roadhouse (capacity: 200)
Still in business. The entire membership of future Mercury Prize-winners Elbow have worked here; singer Guy Garvey was once the barman.
6 Hull Adelphi (capacity: 200)
In a former housing terrace. Has struggled to survive, but will, with luck, celebrate its 30th anniversary in 2014.
7 Glasgow King Tut's Wah Wah Hut (capacity: 300)
A survivor, and one-time platform for such future stars as Florence and the Machine and the Killers. Famously where Creation records boss Alan McGee first saw Oasis in May 1993.
8 Southampton Joiners (capacity: 150)
Now fighting the prospect of closure; current indie stars the Vaccines recently played a benefit show. Local legend claims that Jimi Hendrix played here en route to the Isle of Wight festival in 1970.
9 Oxford Jericho Tavern (capacity: 180)
A heartwarming story: after a spell as part of the student-oriented pub chain Scream, reopened as a music venue in 2005. It was once a home from home for Radiohead.
10 Tunbridge Wells Forum (capacity: 250)
The toilet venue that was once a (public) toilet. Still in business, 20 years old, and staffed by volunteers.
11 London Kentish Town Bull & Gate (capacity: 150)
One of the most renowned toilet venues, and now set for closure. Has hosted Madness, Blur, Manic Street Preachers, Muse, Coldplay and hundreds more. Set to become – why, of course – a gastropub.
Mind of a Lion
A Hot tip for 2012
This hard hitting band are very difficult to pigeon hole, although its clear to see a certain Rage Against the Machine influence. Mind of a Lion has a definite London working class feel, with an edge of Grime mixed in. The first thing that shocks, is the age of the lads when they turn out such a high level performance of well written songs, fully charged live performance. Most young bands tend to follow whatever is popular at the time, but Mind of a Lion seem to be more interested in the message in their music, than being the 'rock star'.
"Music should have a message" Archie BL
As young lads, brothers Archie and Jack had a children's tree camp in nearby woods, one day the whole area was cordoned off by police and terrorist material was discovered, which lead to the banning of all bottles on Aeroplanes. Perhaps subconsciously this had a great influence on Archie's song writing. The First Demo album is entitled 'Peace through aggression' which is a direct reference to the life of young people in the 21st century. Living a backdrop of the war on terrorism, with Governments theory of war will create peace.
Co Writers- Archie Brewis-Lawes
& Jack Brewis-Lawes
Storming the stage as the opening band to 2012 Rebellion Festival
Definitely destined for the big time, Mind of a lion are the future of the British underground.
Check out their songs: Monopoly, Reliegion, Conflict, Development.
This is the new punk rock/indie/alternative. Or as Mind of a Lion like to say 'Modern Rebellion'
http://www.myspace.com/mindofalion/
http://www.youtube.com/mindofalion/
http://www.soundcloud.com/mindofalion/
http://www.facebook.com/mindofalion/
previously known as the Monacles http://www.myspace.com/themonaclesmusic
 NEXT LIVE SHOW DUBLIN CASTLE, CAMDEN TOWN , LONDON 29TH JAN 1013
Produced by Rat Scabies, signed by Jah Wobble, and drawn by Vince Ray, dragSTER could well be the most exciting rock'n'roll juggernaut to emerge from Coventry in many years.
Described by many as one of the most 'in-your-face' live shows currently on offer anywhere in Europe, dragSTER blend the power & the fury of early Motorhead with the filth & glory of a Betty Page fronted Dead Kennedys. dragSTER play Punk the Rock'n'Roll way – the way it was meant to be played: 
loud, hard, fast & low. 
dragSTER have been well an truely marking their punk rock territory this year touring Germany, Italy, Belgium, Spain, France and Ireland. The band have also been accepted into the UK festival scene playing Boomtown Fair, Guilfest and Rebellion. Signed to Manchesters' STP label the band have two albums under their belt and are set to release a thrid long player in May 2013. 
With airplay on KERRANG! Radio and the Radio 1 Punk Show dragSTERs fuel is burning brightly and their engines are thrusting on turbo into 2013.
Del from Peter and the Test Tube Babies takes the radio airwaves by storm http://www.mixcloud.com/delstrangefish/del-strangefish-show-2/