100% Violence
I was born St Teresa's Hospital opposite Wimbledon common to an Irish mother and adopted Irish father and we lived in Peckham Rye until I was five when my step father was killed after being run down by a lorry driver. My mum, younger sister and me, then moved in with my Grandma in Brixton, South London, this was the early Sixties, and it was not a bad area at the time. After the death of my grandma, we moved to Putney in South West London. We were poor, but I remember my early years as being quite a happy child, poverty was nothing unusual in London. My mum remarried and they produced my second sister. Only a few years later, my second Step Father died of lung cancer. Now a single mum, with three children to bring up, we moved to Wimbledon, I don't really remember much of my early school days. 1970 I was now 11 Years old and started Pelham Middle School and then on to Rutlish High School, ex public school with an armoury, and one famous ex student is British Prime Minister John Major. Here is where i started to become a victim of bullying, possibly because of being from an Irish family, at the height of the IRA bombing campaign.
There was always music playing in the house, my mum loved the Beatles and all the bands of that time…and Irish music, which I could not stand as a kid, but can listen to now from time to time, as it is, after all part of my culture. I only really got into music at about the age of thirteen, but obviously remember at the youth disco's they would play Ska and blue beat, as I got older I would listen to Slade, T Rex and David Bowie, I went through a period of really being into Pink Floyd, although to be honest their music does nothing for me now. I would say that punk had a huge influence on me, and is something I can still listen to today!! Oi for me never sounds dated and the lyrics to most the old Oi songs still having meaning today, especially having grown up poor and working class. As for what is considered White Power music, yes I can still listen to some of it, it was after all a big part of my life, songs that sing about our heritage and pride, but for the most part I like to listen to 60′s, 70′s and 80′s music, my musical taste is varied!!
As a young man, and like many young men in the late seventies I did not like what was happening to my country, with mass immigration and no go areas for whites in our inner cities. On Sundays I would go to the Last Resort like many of my mates, some of us would go on to Brick Lane and drink in one of the pubs there, people were always handing out leaflets and selling papers for the National Front or the British Movement, both groups spoke of what was wrong with our country and eventually I joined the British movement as it was the more extreme of the two groups. I have been a member of various other groups since, but hold no membership to any group now, nor will I in the future, I am my own man and no ones soldier!!
Ian Stuart was my best friend and the nearest thing I had to a brother, it's easy for those that never knew him, to judge him and bad mouth him, but Ian was an intelligent and charismatic person who liked a good laugh just like any of us. He cared about and loved his close friends, and he held strong moral values..and he loved his country!! As for his band Skrewdriver, I was a member of the Skrewdriver security team for seven years and its something I am proud of to this day.
Blood and Honour was basically born out of the greed of the National Front, they refused to see a future for white power music, and as such they used their White Noise banner to make money for the national front but were unwilling to really promote and invest in the bands and their music. Skrewdriver and some of the other bands made the decision to break away from the NF, and founded blood and honour, the NF leadership at the time were furious and tried to smear Ian Stuart, but blood and honour has, even after Ian's death become a worldwide organization.
The white wolves were originally formed to combat the anti fascists on the streets of the north of England, and eventually some of us decided that the only way that the British government would listen to the indigenous white working class was through terror, be it right or wrong, it eventually worked for the IRA, so why not us!! We felt the Government, from whatever party, of this country were, and still are afraid, or just don't give a damn about doing what's right for the people of this country, and what was really effecting the working classes daily!! But at the same time I cant really blame someone from a poorer country wanting to come to England for a better way of life, but I can blame the real villain in all of this…government, politicians and the corporations that control them and benefit from the cheap labour….they are the real enemies of the people.
Like anyone moving to a new country it was to have a better quality of life, I had visited Dallas Texas and just fell in love with the place, it was warm and sunny and a far cry from what I was used to, my opportunities work-wise were better, and the cost of living was much cheaper.
How was i introduced to Volksfront, and how did that feel being British in that situation
I had been friends with a lot of the old Hammer-skins and even prospected for one of their chapters but had fallen out of favour, something that was easy to do, the Hammerskins work along the lines of the Hells Angels and other American gangs, first you have to prove yourself, through prospecting. Volksfront had been a brother organization to the Hammerskins at a point in time and they had approached me to help them found blood and honour American division, as I was one of the original blood and honour members here in the UK, a few years later I was asked to join Volksfront and eventually became a national officer and sergeant at arms for for the Midwest chapter. I liked the working class ethic ( you could not join unless you held down a steady job ) and how they embraced their European heritage. I gave up my patch after the group started to change, and after the murder of my friend.
My good friend David Lynch was murdered, with a bullet through the head, while sleeping next to his pregnant girlfriend, by someone he considered a friend of his, and a member of his own group, American Front. That is my belief, and that of many of Dave's friends, but to this day no one has been charged with his murder. When you read the facts of the murder you can come to your own conclusion. Dave's murder had a great and profound effect on me, and has over the last couple of years made me question my life and some of my choices, I asked myself, how did I get to this place, that could have been me laying there.
I think my life had come to a crossroads, some pretty serious shit had gone down, and i just started to feel disillusioned, and wanted to get back to England, i have never really been one to plan life, it just sort of happens as it does.
I guess you could say I have lived an interesting, colourful and somewhat charmed life up until now, and am still alive to talk about it. I feel that perhaps someone may learn from my life, when they make their own decisions. That perhaps, before we condemn, we can first learn. When I look and see young people becoming radical, I realise that nothing changes, just a different name, and a different time, the frustration and disenfranchisement of youth. I feel that the time has come to write a book about my life story.
Do i consider myself a hard man? No, far from it, I was a little boy who was bullied to the point where he could take no more, and had two choices in life..be a victim or be a survivor, and to survive, you have to fight!! Yes I have made a living through violence, but am I a violent man? Lets say I am to stubborn to know when to back down. And I will defend my friends and those I love, so don't fuck with me or mine, and I think you will find me to be a big teddy bear!!
For the future i Just want  to live a bit of normality really, settle down to a peaceful life in Europe. That may sound funny considering the life I have lead. To be honest, I realize now, that all of that hate destroys a person. I know my core values, that will never change, but I have learned to see life from another angle, have fun, be happy, that's my plan!
This is my own personal journey through life, my aim is not to promote any ideology, but to just tell how is was for me, living a life of violence. I hope to have the first draft finished very soon, while its all fresh in my mind, with early 2014, the planned release date. I will let subcultz know once its complete, so register with their site and stay informed.
 By Del O'Connor.
For all enquiries and to add yourself to the pre orders list email 100percentviolence@gmail.com
Xtraverts
The Xtraverts formed in 1976 at the outbreak of the punk movement. Creating music in a garage belonging to the guitarist Mark Reilly (Matt Bianco).
Playing classic venues such as the Roxy, Clarendon, the Greyhound and all over Buckinghamshire, Berkshire and Oxfordshire they created a massive following from all over the country with gigs selling out nationwide. The Xtraverts appealed to the skinhead and punks alike and garnered a reputation for clashing with the local hooligans, while often a deterrent, it was also a draw to those fans wanting to revel in the atmosphere and feel part of the Xtraverts Crew.
The Xtraverts played with many the bands of the time, such as 999, The Vibrators, The Damned, Visage, The Satellites, UK Subs, Johnny Kidd and the Pirates and many more. They also were part of the emerging punk scene playing alongside bands The Lurkers, The Slits, The Banshees, in 77-79, were regulars in the crowd and sometimes onstage at the Roxy
They released three singles in their early career, Blank Generation, Police State and Speed, which are now highly collectable records (especially the limited edition "puke" pressing of Police State). Their first album "So Much Hate" was released on Detour Records in 1978, and is still available in digital format today.
Their unique sound also appealed to a more mainstream audience, with appearances on John Peel's radio show, a TV feature with Danny Baker and a show called Twentieth Century Box with Janet Street Porter looking at the impact of independent bands and labels on the popular music scene.
Over the years, many of the band members ended up in prison, however through quick changes and substitutions, the band carried on regardless. The death knoll for the band finally tolled however when singer Nigel Martin was imprisoned in 1980, the band finally naturally grew to a close. Without its front man and driving force, the musical direction faltered and the band members went their separate ways.
Over their relatively short career, the band had underground success with the single "Police State" and were Number 1 in both the Sounds and NME independent charts. While the band was enjoying its indie success former member Mark Reilly was topping the National mainstream charts with "Get out of your Lazy Bed" with his new band Matt Bianco. The Xtraverts past and present were enjoying a heyday that dominated across the music scene.
The band often made the alternative and oi! charts in sounds magazine in the early 80′s, and picked up a huge following, but circumstances and perhaps major labels not picking them up, like contemporaries, the Clash and Sex Pistols, the world never got to see the band.
30 years later,and after the death of bass player Mark Chapman, the Xtraverts, After meeting up with an old mate Symond Lawes, Manager of X-ray Spex and Concrete Jungle promotions, have decided to release some of their material, at the moment busily digging through the loft and remastering, what will always be pure Punk Rock. There may possibly be a one off gig, sometime in 2014…… Watch this space
"The Xtraverts were such a major influence on my life. Of all the Punk shows i have attended over the last 10 years, i have always thought, i would just so love to see the Xtraverts up on that stage. Lets hope that dream comes true, and the world get to hear such classic tracks"
Symond lawes
The Xtraverts are back, punk never dies!
Mark P. StreetWize magazine 2013
all enquiries subcultz@gmail.com
Wikipedia version of Oi!
Oi! is a subgenre of punk rock that originated in the United Kingdom in the late 1970s. The music and its associated subculture had the goal of bringing together punks, skinheads and other working-class youths (sometimes called herberts).
The Oi! movement was partly a response to the perception that many participants in the early punk rock scene were, in the words of The Business guitarist Steve Kent, "trendy university people using long words, trying to be artistic…and losing touch". André Schlesinger, singer of The Press, said, "Oi shares many similarities with folk music, besides its often simple musical structure; quaint in some respects and crude in others, not to mention brutally honest, it usually tells a story based in truth."
History
Oi! became a recognized genre in the latter part of the 1970s, emerging after the perceived commercialization ofpunk rock, and before the soon-to-dominate hardcore punk sound. It fused the sounds of early punk bands such as the Sex Pistols, the Ramones, The Clash, and The Jam with influences from 1960s British rock bands such asThe Rolling Stones, the Small Faces, and The Who, football chants, pub rock bands such as Dr. Feelgood, Eddie and the Hot Rods, and The 101ers, and glam rock bands such as Slade and Sweet. First generation Oi! bands such as Sham 69 and Cock Sparrer were around for years before the word Oi! was used retrospectively to describe their style of music.
In 1980, writing in Sounds magazine, rock journalist Garry Bushell labelled the movement Oi!, taking the name from the garbled "Oi!" that Stinky Turner of Cockney Rejects used to introduce the band's songs. The word is an old Cockney expression, meaning hey or hello. In addition to Cockney Rejects, other bands to be explicitly labeled Oi! in the early days of the genre included Angelic Upstarts, The 4-Skins, The Business, Blitz, The Blood, and Combat 84.
The prevalent ideology of the original Oi! movement was a rough brand of working-class rebellion. Lyrical topics included unemployment, workers' rights, harassment by police and other authorities, and oppression by the government. Oi! songs also covered less-political topics such as street violence, football, sex, and alcohol. Although Oi! has come to be considered mainly a skinhead-oriented genre, the first Oi! bands were composed mostly of punk rockers and people who fit neither the skinhead nor punk label.
After the Oi! movement lost momentum in the United Kingdom, Oi! scenes formed in continental Europe, North America, and Asia. Soon, especially in the United States, the Oi! phenomenon mirrored the hardcore punk scene of the early 1980s, with Oi!-influenced bands such as Agnostic Front, Iron Cross, Anti Heros. Later American punk bands such as Rancid and Dropkick Murphys have credited Oi! as a source of inspiration. In the mid-1990s, there was a revival of interest in Oi! music in the UK, leading to older Oi! bands receiving more recognition. In the 2000s, many of the original UK Oi! bands reunited to perform and/or record. The song T.N.T. by hard rock bandAC/DC features the interjection at the start and in various parts throughout the song.
Association with far extremist politics
Some fans of Oi! were involved in white nationalist organisations such as the National Front (NF) and the British Movement (BM), leading some critics to identify the Oi! scene in general as racist. However, none of the bands associated with the original Oi! scene promoted racism in their lyrics. Some Oi! bands, such as the Angelic Upstarts,The Burial, and The Oppressed were associated with left wing politicsand anti-racism. The white power skinhead movement had developed its own music genre called Rock Against Communism, which had musical similarities to Oi!, but was not connected to the Oi! scene. Timothy S. Brown identifies a deeper connection: Oi!, he writes "played an important symbolic role in the politicization of the skinhead subculture. By providing, for the first time, a musical focus for skinhead identity that was 'white'—that is, that had nothing to do with the West Indian immigrant presence and little obvious connection with black musical roots—Oi! provided a musical focus for new visions of skinhead identity [and] a point of entry for a new brand of right-wing rock music."
Rightly or wrongly,The mainstream media especially associated Oi! with far right politics following a concert by The Business, The 4-Skins, and The Last Resort on 4 July 1981 at the Hambrough Tavern in Southall. Local Asian youths threw Molotov cocktails and other objects, mistakenly believing that the concert was a neo-Nazi event, partly because some audience members had written National Front slogans around the area. Although some of the skinheads were NF or BM supporters, among the 500 or so concert-goers were also left-wing skinheads, black skinheads, punk rockers, rockabillies, and non-affiliated youths. Five hours of rioting left 120 people injured—including 60 police officers—and the tavern burnt down. In the aftermath, many Oi! bands condemned racism and fascism.
These denials, however, were met with cynicism from some quarters because of the Strength Thru Oi!compilation album, released in May 1981. Not only was its title a play on a Nazi slogan—"Strength Through Joy"—but the cover featured Nicky Crane, a skinhead BM activist who was serving a four-year sentence for racist violence. Critic Garry Bushell, who was responsible for compiling the album, insists its title was a pun on The Skids' album Strength Through Joy, and that he had been unaware of the Nazi connotations. He also denied knowing the identity of the skinhead on the album's cover until it was exposed by the Daily Mail two months later. Bushell, a socialist at the time, noted the irony of being branded a far right activist by a newspaper that "had once supported Oswald Mosley's Blackshirts, Mussolini's invasion of Abyssinia, and appeasement with Hitler right up to the outbreak of World War Two."
Another subsequent source for the popular association between Oi! and a racist or far-right creed was the bandSkrewdriver. Lead singer Ian Stuart Donaldson was recruited by the National Front—which had failed to enlist any actual Oi! bands—and reconstituted Skrewdriver as a white power skinhead act. While the band shared visual and musical attributes with Oi!, Bushell asserts, "It was totally distinct from us. We had no overlap other than a mutual dislike for each other." Donaldson and Crane would later go on to found a magazine, Blood and Honour, and a street-orientated 'skinhead' club of the same name that arranged concerts for Skrewdriver and other racist bands such as No Remorse. Demonstrating the ongoing conflation of Oi! with the white power skinhead movement by some observers, the Encyclopedia of British and Irish Political Organizations refers to these groups as "'white noise' and 'oi' racist bands".
1964: Mods and Rockers jailed after seaside riots

Scores of youths have been given prison sentences following a Whitsun weekend of violent clashes between gangs of Mods and Rockers at a number of resorts on the south coast of England.Yesterday two youths were taken to hospital with knife wounds and 51 were arrested in Margate after hundreds of teenagers converged on the town for the holiday weekend.

Dr George Simpson, chairman of Margate magistrates, jailed four young men and imposed fines totalling £1,900 on 36 people.

Three offenders were jailed for three months each and five more sent to detention centres for up to six months.

Obscenities

In Brighton, two youths were jailed for three months and others were fined.

More than 1,000 teenagers were involved in skirmishes on the beach and the promenade last night.

They threw deckchairs around, broke them up to make bonfires, shouted obscenities at each other and at passers-by, jostled holidaymakers and terrified elderly residents.

At about 1300 BST Mods and Rockers gathered at the Palace Pier chanting and jeering at each other and threw stones when police tried to disperse them.

The teenagers staged a mass sit-down on the promenade when police, using horses and dogs, tried to move them on.

In Margate, there were running battles between police and up to 400 youths on the beach early yesterday morning. Bottles were thrown and two officers were slightly hurt.

Later, on the high street, around 40 young men smashed council flat windows and vandalised a pub and a hardware shop.

Last night, hundreds of young men and girls were still wandering around the resort long after the last train had left.

Police stepped in to prevent further violence and dispersed about 30 youths in leather jackets who marched up the promenade shouting "Up the Rockers!"

There were further clashes at Bournemouth and Clacton.




Watch/Listen

More than 1,000 teenagers were involved in skirmishes in Brighton


Mods explain `Mod culture'




From the early to mid-1960s young, mainly working class, Britons with cash to spend joined one of two youth movements.The Mods wore designer suits protected by Parka jackets and were often armed with coshes and flick-knives. They rode Vespa or Lambretta scooters bedecked with mirrors and mascots and listened to Ska music and The Who.Rockers rode motorbikes – often at 100mph with no crash helmets – wore leathers and listened to the likes of Elvis and Gene Vincent.Inevitably the two gangs clashed. The 1964 Whitsun weekend violence in Brighton was famously dramatised in the film Quadrophenia (1979).In August that year police had to be flown into the Sussex resort of Hastings to break up fights between the two gangs.

But two years later, most Mods had turned their attentions to the burgeoning, more laid-back, hippie culture. While the harder working class Mods created the Skinhead Subculture
RON 
RON WATTS PUNK PROMOTER

 

Fr

iday 17th November 2006, 30 years since Punk detonated, and I had the pleasure of sharing a few drinks with Ron Watts in my home. Ron promoted many of the early bands, and organised the now legendary Punk Festival at the 100 Club on the 20th and 21st September, 1976. Ron's just published a great book which documents those heady and (for those lucky enough to have been there) exciting times. I switched on the tape recorder, put some wine on the table and off we went, talking about our mutually favourite subject. Music! I hope people will find this interview as interesting as I did, he's a top bloke with some great memories.




Rob Maddison, Tamworth, 19th November 2006.

 

100 Watts, a life in Music. Written by Ron Watts and forward by Glen Matlock. ISBN 0-9543884-4-5. Available from Heroes Publishing, the Internet (it's on Amazon) or even a bookshop!

RM) Ron, firstly, why did you write the book?
Ron) I was approached by the publishers, who said "would you be interested in writing your life story". I thought about it, for about two days, and then thought yeah. Yes, I'd do that, you know what I mean.

RM) How on earth did you remember everything?
Ron) Most of it was in the house, still. I just had to find all the old diaries and booking sheets and things, and it jogged my memory, you know. 

RM) You kept all that stuff, then Ron?
Ron) Well, yes, I suppose you would, really, wouldn't you. To be honest, I sold some stuff off at auction, about 10 years ago, when I was skint. One thing was the Sex Pistols contract from the Punk Festival, which was handwritten by Malcolm McClaren.

RM) Who bought it?
Ron) I think it was the Hard Rock Café in Central London, to put up on the wall.

RM) When's your next promotion Ron?
Ron) Well, I haven't been promoting for a while, but it's in my blood, and people are expressing an interest in me doing something. I've got 2 venues lined up for the new year, look here for news, come February. We've venues in Oxford Street and High Wycombe, but can't say too much at this point!! These gigs are to be known as Ron's part 1 and 2…

RM) Who are you promoting?
Ron) What I did in 1977. 

RM) What, new "Punk" bands, such as The View etc?
Ron) No. Same bands I did in '77. Same bands in the same place. Some of them are reforming, I've been on the bone mate!!

RM) Who are you still in touch with from those days, Ron?
Ron) Virtually everybody. People from the Sex Pistols, met some of the Clash quite recently, Damned I'm still in touch with, no end of people. 

RM) Glen Matlock wrote the forward to the book and is obviously a decent bloke.
Ron) Glen is a nice bloke, and definitely part of the Pistols, but is his own man.

RM) Did you ban Punk?
Ron) No. Punk was banned around me, and while it was banned at one venue, I still considered doing it at another, the Nags Head in High Wycombe. At the first opportunity for it to go back into the 100 Club it went back in. It's a false supposition to suggest I banned it. It was banned because the police and Oxford Street traders association objected to Punks standing in queues outside their shops waiting to get into the club. At this time Oxford Street was the premier shopping street in Europe. I'd be getting complaints, so would go out into the street and try and get people to move out of shop doorways etc, but as soon as I went back in the club they'd be back in there. And of course there'd been some real bad violence. When a girl loses her eye that's a pretty serious thing. You have to remember that I didn't own the club, I just promoted there. Simple as.


RM) Did Sid Vicious throw the glass that injured the girl's eye?
Ron) Well, I presume so, the barman saw him do it. He didn't know Sid from Adam, but he pointed him (Sid) out and told me it was him that threw it. I don't think Sid meant to hurt anybody, except the Damned! If it had caught Captain Sensible on the head he'd have liked that! Funnily enough I was down at the 100 Club a couple of weeks ago, and Michelle Brigandage, who took some of the photos in the book, was telling me that she was actually sat with the girl who lost her eye. Apparently she was an art student from South London, never wanted any publicity and was broken hearted, as anyone would be who lost an eye, especially at that age. She was only 19 at the time. Michelle was sat with her when it happened, she was her mate, and it's the first time I've had a real chat about it. She said herself that though she accepts that it was Sid who threw the glass, he hadn't intended to do that. But at the same time, he had thrown the glass with malice, and might've done even worse damage to someone else, you never know. So in one sense, he's exonerated to a degree, and in another sense he's still a malicious Pratt.


RM) Was there any collusion to get Sid off by discrediting the barman's story?
Ron) No, but so many people went down with him, to the police station, and said he didn't do it that the CPS probably thought 250 against 1 and dropped it.

RM) Were you surprised by Sid's eventual demise?
Ron) No. You know, his mother, Ann Beverley moved up to Swadlincote, near here. She got some money from Sid's estate, and the Pistols gave her some money. She got a cheap house and a few bob in the bank, and when she'd run through that she topped herself. As for Nancy, the police weren't looking for anybody else, but we don't know, do we.

RM) Ron, how proud are you of your role in Punk, and could it have happened without the 100 Club?
Ron) Yeah, it would've happened anyway. It might have happened in a different way, but I suppose the traumatic birth it got, and the big hand it got via the Punk festival etc helped, otherwise it might have taken a bit longer. 

RM) Could it have started in any other city other than London?
Ron) I think it needed London. It gave it the credibility. It might have happened somewhere else, and it might have been more interesting if it had happened, say, in Liverpool or Newcastle or somewhere, but it would have taken longer to be accepted, and London would have taken longer to accept it.

RM) I suppose the Pistols, who catalyzed the movement were a London band, and people like Paul Weller, Pete Shelley etc always say the seeing that band is what galvanised them.
Ron) Yes. They were the catalyst. We needed to have them in the Capital, playing in the middle of the Capital. It was always going to be a shortcut for them, you know. So yes, it would have still happened elsewhere, but in a different way.


RM) Whose idea was the 1976 Punk Festival at the 100 Club?


Ron) Mine. My idea, yeah. I approached Mclaren, as I knew that I needed the Pistols to headline it. And the Damned, they said that they wanted to do it, and The Clash agreed immediately, then we had to cast around to find some more. The Manchester bands were got down by Malcolm (Mclaren). Siouxsie approached me direct, although it wasn't much of a band. Then, the Stinky Toys were volunteered by Mclaren, although I'd never heard of 'em, and hardly anyone's heard of 'em since! Never mind, they got on eventually on the second night!

RM) I read in the book that the Grande Piano on the stage got used like a climbing frame. Were you actually liable for damages if things got broken?


Ron) The piano wasn't going to get moved off the stage. It always stays there. Thing is, you've got to remember that it was a running, 7 nights a week club, for Jazz and Blues mainly, and the piano was a part of all that. The owners of the club left me to it for my nights, very seldom that they were there, even. If the place had been wrecked, it would've been down to me, I'd have had to pay for all the damage, you know.

RM) Punk 77's owner wondered if you thought the Banshees sounded as bad as he thought they did?!
Ron) Well, in '76 they weren't really a band, you can't comment. What they were doing was performance art, just getting up onto the stage and doing something off the top of their heads. They didn't know any songs, and it sounded like it. It was weak, it was weedy. Sid just about tapped the drums. Siouxsie was doing the Lords Prayer and stuff like that. You couldn't say it was a gig, or a rehearsed act, it was just people, getting up and trying to do something. I let them do it, you know, I might have done something like that at their age. I don't think Siouxsie really lived up to her reputation, if you like. Well, not initially. 

RM) I didn't like them, but the Banshees went on to become very skilled, musically.
Ron) Yes. By then she'd recruited some good blokes. She's been living in France for a long time now, I don't see her.
Jamaican producer and musician Harry Zephaniah Johnson, 67, credited with producing what is widely considered the first reggae single "No More Heartaches" by the vocal harmony trio The Beltones, passed away on Wednesday, April 3 in his Westmoreland, Jamaica birthplace, succumbing to complications from diabetes; Johnson leaves four children and three grandchildren.
Born on July 6th, 1945, Johnson, better known as Harry J, initially entered the music business as a bass player with The Virtues prior to becoming the group's manager. Shortly thereafter, he took a job as an insurance salesman but his love for music continually beckoned. He booked time at producer/sound system owner Coxsone Dodd's Studio One in 1968 and recorded The Beltones. The resultant debut release on Johnson's Harry J label, "No More Heartaches," is considered a defining record heralding the emergence of the reggae beat as distinctive from its rock steady predecessor. ("Nanny Goat", a 1968 song produced by the better-known Coxsone Dodd and sung by the duo Larry and Alvin is also cited as a transformative record, moving the rock steady tempo into a reggae rhythm).
"At the time we were under contract with Coxsone Dodd but he wasn't doing anything for us so a member of a popular group The Cables took us to Harry J; Harry was new to the business and happy to record us so we broke away from Coxsone and went with him," recalled The Beltones' former lead singer Trevor Shields told Billboard.biz. "The driving sound on "No More Heartache" was totally different; we were like outsiders starting something new but didn't know it at the time. The song was No. 1 on the Jamaican charts for about four weeks, which was no easy feat in those days."
Harry J's next big hit "Cuss Cuss" by Lloyd Robinson, released in 1969, boasts one of the most recycled reggae rhythms in the voluminous Jamaican music canon. The same year Harry J released a succession of reggae instrumentals credited to the Harry J All Stars, a revolving cast of musicians that included pianist Gladstone "Gladdy" Anderson, keyboardist Winston Wright, bassist Jackie Jackson, drummer Winston Grennan and guitarist Hux Brown. "Smashville," "Je T'Aime" and "Srpyone" an assortment of Jamaican originals and reggae adaptations of international hits, are just three of the Harry J All Stars' instrumentals that garnered steady play from Kingston's sound system selectors.
Their most successful was "Liquidator," led by Winston Wright's spirited keyboard solos, which peaked at no. 9 on the UK Singles chart and became an unlikely skinhead anthem there. The song's opening bassline was subsequently featured on the introduction to The Staple Singers' 1972 Hot 100 chart topper "Ill Take You There" (Stax Records). According to an April 7 report in the Jamaica Observer newspaper by Howard Campbell, based on a 2000 Observer interview with Johnson, drummer Al Jackson (of Booker T and the MGs, Stax's in-house band) visited Kingston in 1969 and met Harry J who gave him a copy of "Liquidator"; Johnson was shocked to hear the song used in the Staple Singers' hit and took aggressive steps to collect royalties from Stax but made little progress.
Following "Liquidator's" UK success, British reggae label Trojan gave Johnson his own Harry J imprint; his instrumental productions never again reaped the popularity of "Liquidator" but Johnson triumphed working with several of the island's vocalists commencing with Marcia Griffiths and Bob Andy: their 1970 duets covering Nina Simone's "Young Gifted and Black" and Crispian St. Peters' "The Pied Piper" reached the upper tiers of the UK singles charts.
In 1972 Johnson opened a sixteen-track studio at 10 Roosevelt Avenue, Kingston, which revolutionized the reggae capital's recording industry. "Back then, we were recording two-track and four-track sessions so it took great foresight for someone to go all the way to 16-tracks, which brought us on par with the rest of the world," engineer/musician/producer Stephen Stewart told Billboard.biz at Harry J studios; there Stewart learned audio engineering in the 1970s while still a teenager, working alongside the late Sylvan Morris. "Because he had the latest in technology Harry J attracted the best artists of the day," Stewart noted.
A sampling of the classic 1970s roots reggae recordings done at Harry J studios includes: The Heptones' "Book of Rules," The Melodians' "Sweet Sensation," Toots and the Maytals' "Reggae Got Soul," Burning Spear's "Days of Slavery" and Dennis Brown's "So Long Rastafari." Bob Marley and The Wailers also recorded their first four albums for Island Records at Harry J ("Catch a Fire," "Burnin," featuring Bunny Wailer and Peter Tosh, "Natty Dread," and "Rastaman Vibration" with the I-Threes); presently, framed gold copies of those Wailers albums adorn the walls of the studio's main room.
Harry J Studios are featured in the 1978 film "Rockers" (directed by Theodoros Bafaloukos and starring Leroy "Horsemouth" Wallace, Gregory Isaacs and Jacob Miller) in a scene that spotlights singer Kiddus I recording "Graduation In Zion" there.
Although the 1970s were Harry J's production heyday he continued to produce and release hit singles throughout the 1980s including Sheila Hylton's cover of The Police's "The Bed's Too Big Without You", which reached no. 38 on the UK singles chart. Harry J responded to the massive "Sleng Teng" rhythm released by the King Jammys label in 1984, which jumpstarted Jamaican music's digital revolution, with his aptly titled "Computer Rule" rhythm that spawned numerous hits for various singers and toasters including Daddy Freddy, Charlie Chaplin, Uglyman, and Little John.
Following a seven-year dormancy during the 1990s, Harry J studios reopened in 2000, under the management of Stephen Stewart who refurbished and re-equipped the facility, with Johnson retaining ownership of the premises. "Harry J pushed the business aspect of the industry, putting deals together and cataloguing his songs (including releases on the Jaywax, Roosevelt, 10 Roosevelt Avenue and Sunset subsidiaries), which were separate from the studio operations," Stewart offered.
Countless reggae veterans including Toots Hibbert, Burning Spear, Sly and Robbie and Luciano have recorded at Harry J studios in recent years while upstart Jamaican groups Raging Fyah and Di Blueprint Band and an abundance of European reggae acts have each sought out its authentic roots reggae sound. "People come here to capture that live session chemistry where recording is more than just one person using a computer program," observes Stewart. "The legacy of the musicianship that has come through here makes Harry J studios really special, it's part of the vision Harry brought to Jamaican music."
by Modculture 1 October, 2012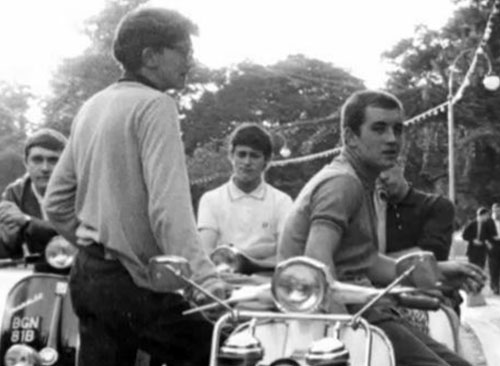 Mods in the 1960s
Thought this bunch of clips might be of interest to you, a short movie around the Fred Perry 60th anniversary event and if you missed them, the Subculture movies themselves.
The Fred Perry event took place last week, a showcase for the clothing label and its heritage and the Don Letts-directed mini movies, throwing in some live performances and DJs, headed up by The Charlatans.
You can watch it here…
Episode 2: This Is A Modern World
Episode 3: Made in England
Episode 4: Soul Power
British youth culture and style has gone around the globe, but there is a growing number of events back on home soil.
The Great Skinhead Reunion
in Brighton, cant be missed for any self respecting Skinhead, People travel from across the World to the Mecca annual event
There are many great British bank holiday traditions; determined but ultimately doomed DIY projects, staring from stationary car windows in lengthy traffic jams or simply avoiding the predictable rain.
One tradition though which has largely been consigned to history is the invasion of south-coast seaside resorts by teenage youth cults; namely the Mods and Rockers.
The seaside battles between the sartorially elegant Mods and their leather-clad rivals the Rockers fuelled much sensationalist media coverage in 1964.
As news of the fighting and arrests filtered out, these youngsters found themselves at theforefront of public outrage.
In fact, the Easter weekend shenanigans were pretty much the first mass-media scare over a drug-taking, mindless, violent youth.
Of course there have been quite a few scares since.
Newspaper headlines from March 1964 screamed 'Wild ones invade seaside' and '97 leather jacket arrests; youngsters beat-up seaside' as fighting broke out in Clacton-on-Sea.
The trouble caused enough outrage for Panorama to investigate the groups and work out whether this phenomenon would be become a regular feature of future bank holidays.
The results were strikingly candid; providing a snapshot of working-class youth at the point where deference to the establishment was beginning to wane.
The Mods preached a hedonistic take on life; enjoying drugs, music, clothes and violence to a lesser or greater degree and set a blueprint for many a youth tribe to follow.
The Rockers seemed more about the bikes.
Perversely for a group with an anti-establishment reputation, the Rockers citied Mods lack of education and class as factors behind their behaviour. The reality though was that both groups were predominantly working-class.
The battles may have ceased almost as quickly as they began; but they have become the stuff of legend, immortalised in the album, film and now stage play "Quadrophenia".
But as with any legend, it has tarnished a little over the years amid claims that many seaside punch-ups were actually faked for the press.
This tradition carried on through peaks and troughs, right up until the early 80′s when cheap Spanish holidays, took British youth abroad
Both groups still thrive today albeit in smaller, underground circles. The great Skinhead Reunion in Brighton or the resurrection of the Rockers haunt the Ace cafe in north London, or the continued vogue for modish Fred Perry clothing and their mainstream influence is still evident today, although the violence is consigned to the past.
The end of a reign of terror
Headhunters … Terrence Matthews and Jason Marriner
By MIKE SULLIVAN, Crime Editor, and ALEX PEAKE
Published: 26th March 2011 The Sun
FOR decades the mere mention of their name struck fear and terror into football fans across the UK and Europe.
They revelled in being the most notorious hooligans on the planet.
They were the Chelsea Headhunters — dishing out their savage brand of football violence on rival fans at grounds across the country in the Seventies and Eighties.
They disappeared from the scene for a number of years following a string of convictions for violence. Then last year the ringleaders coaxed the now middle-aged and pot-bellied brutes out of retirement for one last dust-up.
But yesterday the vile thugs' 30-year reign of terror was ended once and for all as the last remnants of the ageing, desperate gang were brought to justice following their final brutal clash.
The chance to rekindle the tribal camaraderie and blood-fuelled adrenaline the Headhunters had once lived for presented itself when Championship side Cardiff City were drawn away to Chelsea in the fifth round of the FA Cup on February 13 2010.
The Welsh club's own hardcore group, the Soul Crew, enjoy a formidable reputation and relished the prospect of invading west London.
In the deluded minds of the Chelsea old guard, getting stuck in to the Cardiff mob was a matter of defending national pride.
The scene that unfolded was a perfect storm of football violence — punch-ups and brick-throwing in broad daylight as terrified families cowered in the carnage.
Marshalling the bloated and blowing Chelsea soldiers that day were Andy "Nightmare" Frain, 46, and Jason Marriner, 43.
Dad-of-three Marriner, of Stevenage, Herts, was yesterday jailed for two years and banned from football grounds for eight years having been found guilty at Isleworth Crown Court of playing a "pivotal role" in organising one of the biggest ever violent clashes between football hooligan "firms".
He was due to be joined by Frain — who was last seen arriving at court swigging from a bottle of vodka — but his sentencing had to be postponed due to illness. Frain, of Chelmsford, Essex, has pleaded guilty to violent disorder and is due to be sentenced later.
Frain and Marriner have previously been jailed for seven and six years respectively in 2000 after being secretly filmed plotting violence during a BBC programme by investigative reporter Donal MacIntyre. Frain discussed his involvement with the neo-Nazi group Combat 18 while Marriner had close links to Ulster loyalists.
Andy 'Nightmare' Frain … last seen at court with vodka
National Pictures
On Thursday, 13 other Chelsea fans were jailed for offences of violence after the Cardiff game and received sentences of up to two years in jail. One of those was Ian Cutler, a 50-year-old builder from Wednesbury, West Mids, who has football-related convictions for violence dating back to the 1970s. He was seen kicking and punching a man lying on the ground and given 14 months and banned from football grounds for six years.
Judge Martin Edmunds QC told Cutler and other defendants they were "old enough to know better".
On Monday, Terence Matthews, of Morden, Surrey, and two others pleaded guilty to affray. A judge warned them they face jail when sentenced in May.
A now slimmed-down Matthews, 50, was once accused of being the "Fat Man" who rammed a bottle in a barman's face at a pub near Chelsea's Stamford Bridge ground.
He was jailed for four years for affray in 1986 but, to the outrage of police and victims, was acquitted of the bottle attack. He later served a two-year jail sentence for assaulting a police officer. Det Supt William Lyle of the Metropolitan Police said of the violence on the day of the Cardiff match: "Nothing like it had happened since the 1970s. One heavily pregnant woman in a car became very stressed by fighting hooligans.
"There was CCTV of a father shielding his two children as missiles were thrown over their heads. We were prepared for trouble but nobody could have foreseen that."
These fresh convictions have ripped the heart out of the Headhunters' hierarchy who, in their heyday, became infamous for inflicting their own brand of torture.
In their "manor" of London's trendy King's Road they would administer the notorious "Chelsea Smile" — so-called because victims' faces would be SLICED from the edges of the mouth to the ears.
To hurt or even kill the victim, he or SHE would then be STABBED in the stomach so the face would RIP when they screamed.
But with the arrival of all-seater stadiums in the early Nineties, football hooliganism was all but stamped out. The shaven-headed, hate-filled hooligans got older and there was a lack of wannabes waiting to fill their shoes.
In recent years the Headhunters became nothing more than a myth.
The group faded away after MacIntyre's documentary exposed the remaining hardcore members.
But the cup clash with Cardiff last year proved too much for the now paunchy monsters to turn down. All the old crew were back for the reunion — Nightmare, Marriner and the Fat Man too.
Scene of terror … punch-up in 2010
National Pictures
Police insisted on a noon kick-off but the first signs of trouble came in the morning when more than 100 Chelsea yobs marched on North End Road, splitting into two groups with military precision to attack Cardiff coaches.
Smoke bombs went off as the rival hooligans clashed before police took control.
The court heard this week how Chelsea fans then downed up to seven pints of lager and snorted lines of cocaine in pubs as they prepared to face their Welsh enemy after the final whistle.
The thugs jostled on the Fulham Road. A group of Cardiff fans broke away and made their way to the King's Road, where they were met by the Headhunters.
More than 200 yobs then fought a running battle for the next quarter of an hour, hurling missiles and traffic cones at each other.
Bricks were thrown at police. One officer had his jaw broken and lost four teeth after being hit in the face with a rock.
The police quickly launched Operation Ternhill to identify the thugs and collected hundreds of hours of CCTV footage.
Seventeen hooligans were named to police in just two days last July following an appeal in The Sun.
A total of 96 people have been charged over the riot so far, with more than 60 having already pleaded guilty to offences of affray and violent disorder.
mpuDet Supt Lyle said: "A high number were in their thirties, forties and even their fifties. The oldest one was 55. A lot of them went because they knew there was a high possibility of violence."
In February this year 27 Cardiff fans received sentences of up to 14 months in jail. A second batch of 18 more were given similar terms.
Brave telly investigator Donal MacIntyre was in court yesterday.
Thugs from the Headhunters firm attacked him and wife Ameera last year in "revenge" for some of their gang being convicted as a result of his 1999 report. A member of the gang James Wild, 47, was later convicted for the attack.
MacIntyre said: "They beat my wife up when she had a brain tumour. I'm here to see justice done. I've been running for ten years and now enough is enough."